Indian Ocean HRA Overview
Continued reported incidents reflect that the HRA remains a threat in regards to piracy activity in the region. Recent efforts to improve the security environment will reduce the impact of Somali piracy, however, continuing deterioration of onshore conditions in Somalia and Yemen such as famine, terrorist groups, a weak central government and poor governance of coastal areas continue to influence piracy in the region. Pirate financiers capitalise on the chaos offering opportunities to local people. Piracy groups onshore Somalia still bear the motivation to try and carry out attacks and still with capability to target merchant vessels. Increasingly, vessels in the HRA are subjected to incidents that appear to be co-ordinated small boat piracy approaches however they choose not to ultimately attack. These incidents are then difficult to classify as attempted piracy or simply as regional patterns of life in the area. However, as seen in recent months there have been numerous attacks and attempted boarding's ranging from incidents in the Somali Basin, Gulf of Oman, Gulf of Aden and the Southern Red Sea. The increased presence of naval patrols and armed security on board vessels act as a deterrent to the threat of piracy, however those vessels transiting in the area without the presence of armed security remain a significant risk.
Reported Incidents HRA
1 incident to report (OCEANUSLive)
Suspicious Approach – Bab-el-Mandeb
Incident details: On the 8th April an underway tanker was approached by 3 skiffs at 0724UTC on starboard and port sides in the Bab-el-Mandeb Strait. AST fired flares and warning shots. 20 minutes later 2 more skiffs were sighted. Further warning shots fired and skiffs moved away. Vessel safe.

Intelligence comments: Suspicious approaches continue in the Bab-el-Mandeb and Gulf of Aden. As weather conditions become more favourable for small boat operations in region, this will see an increase in not only regional patterns of life but also possible piracy operations. Extreme vigilance should be taken at all times.
Yemen Update
Houthi rebels have stepped up attacks on Saudi Arabia this week targeting the capital Riyadh and the southwestern city of Jizan. Furthermore, there have been increased coalition airstrikes on Hudaydah.
This Week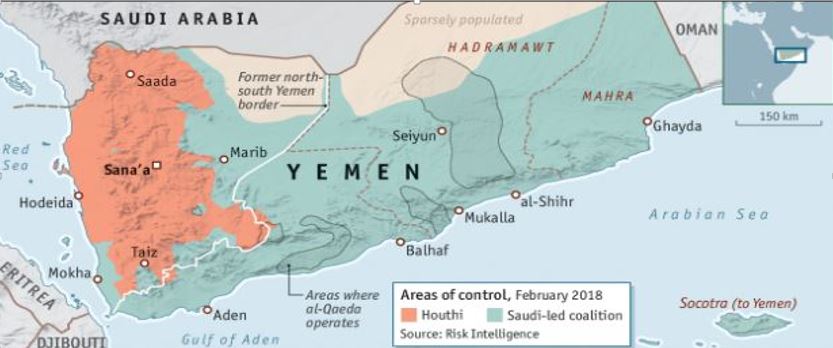 (Economist – Risk Intelligence)
Saudi-led alliance focus on Yemen's coast: High tech radar units stretch along the quay of Mokha Port in southwestern Yemen, underwater fortifications have also been built to block attacks from unmanned boats packed with explosives. Mokha port was once a thriving coffee hub and is now a heavily guarded naval base from which the UAE monitors shipping lanes and the movements of the Houthi rebels. UAE forces also hold Hawlaf Port on Socotra Island and Perim Island. Winning and keeping control of Yemen's ports in the Red Sea is of paramount importance. Gulf government officials have said that capturing the coast would block the Houthi supply lines and push them towards the negotiating table. Houthis still control Yemen's most populated areas such as Sanaa and the main port of Hodeidah. (Source: Reuters)
Ongoing Threat of Violence/Terrorism at Sea off the Coast of Yemen
Yemen's civil war has created an environment mirroring Somalia's lawlessness. The ongoing conflict in Yemen demonstrates how poor security on land has led to violence spilling out into the maritime domain. Houthi rebels continue to control a large amount of Yemen's red sea coastline.
In relation to coalition forces advancing towards the Red Sea port city of Hudaydah, currently under Houthi rebel control, increases the risk to shipping in the region. In the past Houthi rebels have repeatedly threatened to attack merchant vessels in the region should coalition forces attempt to re-take Hudaydah port. If coalition forces seized Hudaydah it could be argued this would be a turning point in the civil war as the Houthi rebels would lose their main source of finance through the port in which illegal arms are smuggled.
Unconfirmed reports surfaced on the 7th January 2018 stating that the Saudi coalition had destroyed at least one Houthi vessel near Hudaydah port after an alleged attack occurred against a Saudi oil tanker. The vessel was reported to be loaded with explosives and controlled remotely.
The threat of terrorism at sea off the coast of Yemen remains by rebel groups and terrorist organisations such as AQAP remains. Such is highlighted by attacks against the LNG Tanker Galacia Spirit in October 2016 and the MT Muskie a product tanker in May 2017. Both involved the use of explosive laden skiffs, as an attempt to cause major devastation in the critical international shipping passage of the Bab-el-Mandeb.
It continues to be a persistent threat that merchant vessels may be the subject of a miscalculated attack or as has been suggested recently, possibly threats of a calculated attack.
The continued proliferation of weapons in Yemen increases the possibility that rebel and other groups may seek to conduct an attack against shipping using WBIED's.
Somalia Update
This Week
Once a hostage, Sri Lankan Sailor now helps battle Somali Pirates: In the city of Bosaso, Somalia, Sarath Surasena teaches students who are recruits for a new coast guard being established in Somalia's Galmudug state which was once the centre of piracy operations. In 2010 Sarath Surasena was sailing from South Africa to India when Somali pirates hijacked the ship he was working on and forced the crew to sail to Harardhere in the Galmudug state where he was held crew hostage for two years. The pirates used the vessel as a mothership with the hostages as their crew. (Source: All Africa)
Somalia to end military cooperation with the UAE: The Somali Federal Government ended a military cooperation and training agreement with the UAE after Somali forces seized nearly $10 million from an Emirati aircraft in Mogadishu this week. Somali officials accused the UAE of delivering the money to support former Lower House speaker Mohamed Osman Jawari against the Somali President. The UAE stated the money was intended for training the Somali National Army.
Al Shabaab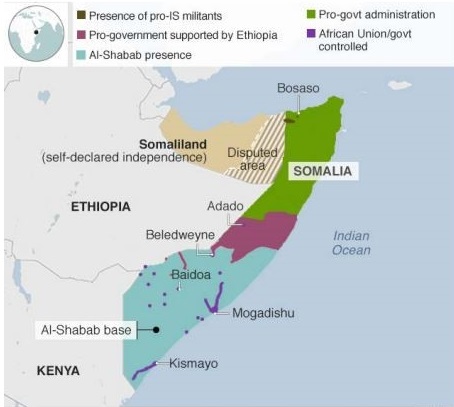 Al Shabaab has been increasingly active in Somalia in recent months. The militant group has been battling the Somali Federal Government (SFG) in an effort to govern Somalia. Since 2013, al Shabaab pledged allegiance to al-Qaeda attracting the United States to execute raids and airstrikes against the group. However increased US airstrikes have not enabled African Union Mission (AMISOM) and Somali security forces to gain enough momentum against the terrorist group, al Shabaab has not suffered any great loss of territory or significant casualties from the airstrikes. Al Shabaab continues to maintain strongholds in southern and central Somalia and continue to carry out attacks against military and civilian targets. Somalia is a country whereby tribal loyalties are stronger than national ties. The SFG and Somali forces lack legitimacy outside of Mogadishu. Further to this, al Shabaab further exemplifies the issue of famine, terrorism and corruption making the prospect of stability in Somalia in the near future bleak. Al Shabaab is likely to maintain its present operational tempo in 2018 and further expand its territory in central and southern Somalia.
Piracy
In 2017 between March and May, five vessels were hijacked in Somali waters, whilst this was reported by many to be a resurgence of Somali piracy, it can be assessed as more likely to be a result of a permissive environment during the inter-monsoon period allowing skiffs and PAGS to operate with ease. Until the deep rooted issue of piracy in Somalia are resolved, piracy will continue to be a threat. 2017 saw the worst drought Somalia has seen in 40 years, this coupled with the struggling government and extreme militant violence has brought 6.7 million people into crisis. Pirate financiers capitalise on the chaos offering opportunities to local people. Pirate groups are known to operate in the coastal regions of Puntland, namely Eyl and further south in the Galmudug region, namely Hobyo. It is needless to say, as the increased instability in Somalia continues, it will serve as a permissive environment for piracy operations with an ongoing threat to shipping in the region.