An evacuation of a hotel complex in the Kenyan capital Nairobi is still ongoing, hours after suspected Islamist extremists launched an attack killing at least 11 people, including a US citizen and possibly a UK citizen. There are conflicting numbers for the amount of causalities, with President Kenyatta saying 14 dead and the Kenyan Red Cross saying at least 24.
Tuesday's coordinated assault by armed gunmen on the Dusit D2 compound, an upmarket cluster of shops and hotel facilities, represents the most high-profile terror attack in the East African country in several years. Authorities reported that "scores" of Kenyans and foreign nationals had been evacuated from the compound, and that the site had been secured, but sporadic gunfire continued to be heard hours after the all-clear had been given.
Attack started with car bombs
The attack began at a bank inside the compound Tuesday afternoon. An explosion ripped through three vehicles in the parking lot, followed by a suicide blast in the foyer of the Dusit Hotel.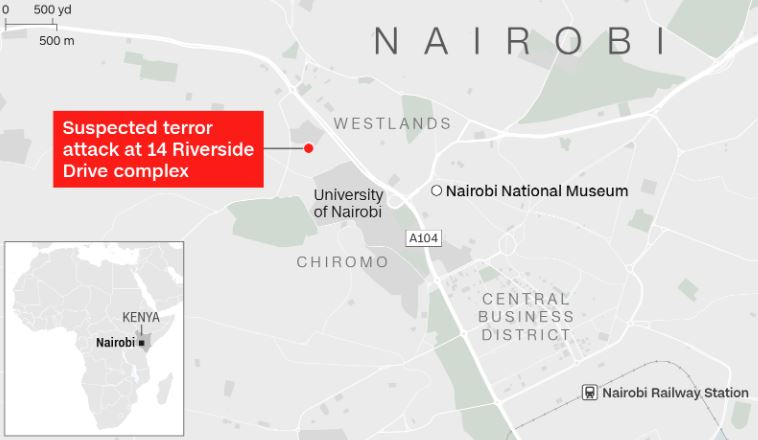 Gunmen then shot people at cafe tables and desks. Dozens of people were forced to hide for hours inside the complex as police and troops searched for the attackers. The area includes bars, restaurants, offices and banks and is a popular destination with US, European and Indian expats.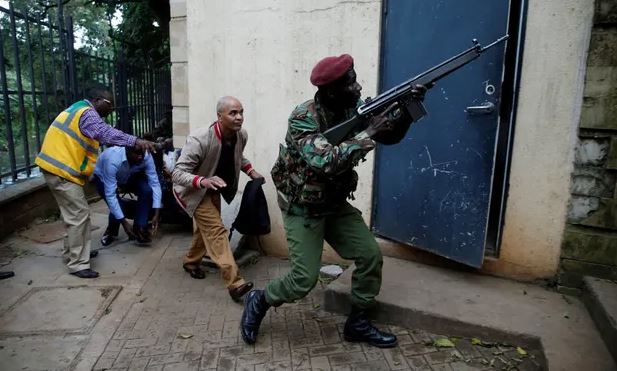 Somali Islamist militant group, Al-Shabaab, claimed responsibility for the attack, according to the SITE Intelligence Group. It's the most high-profile terror attack in the East African country in years, and happened three years to the day after Al-Shabaab militants targeted a Kenyan military base in neighbouring Somalia, killing dozens of soldiers. And in 2013, Al-Shabaab militants targeted the luxury shopping centre of Westgate, killing 67 people in a siege that lasted several days. Westgate is about two miles away from the site of Tuesday's attack.
Rashid Abdi, an expert in Islamic militancy in east Africa with the International Crisis Group in Nairobi, said al-Shabab was a versatile and patient organisation.
"It was always a matter of when not if. There has been some successes against al-Shabab in northern Kenya but if we have learned anything it is that al-Shabaab lulls security services into complacency. Months and years can go between attacks and then they strike."
Though the Kenyan deployment in Somalia is one motive for al-Shabab's attacks in Nairobi and elsewhere, the organisation is also committed to the broader causes of global jihadi ideology and sees the Kenyan capital as a key target.