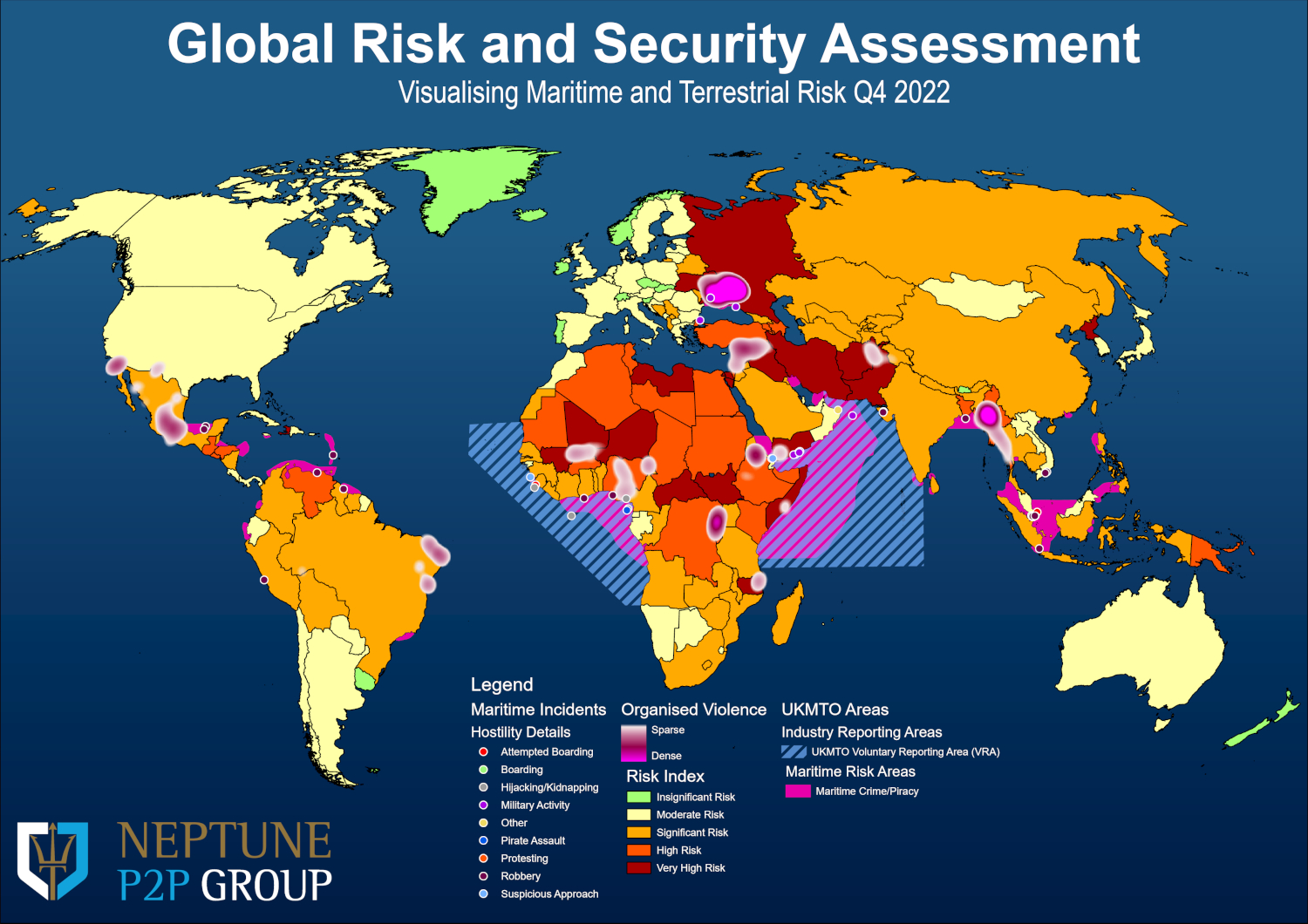 The Neptune P2P Group Global Risk and Security Risk Assessment Map Q4 2022 provides a convenient visual display of the current level of Maritime and Land-based security threats in regions and countries worldwide. It is designed to be an aid to a company's global business interests, allowing an instant appraisal of the security situation in their area of operations. Crisis situations can often flare up at short notice which might have repercussions on your business activities and employee welfare, recent global socio-economic pressures may lead to civil unrest and increasing levels of crime in countries not usually associated with such activity.
In Q4 there was a slight increase in maritime security incidents in the Gulf of Guinea and South America with the Gulf of Mexico seeing an increase in boardings and theft particularly in the Bay of Campeche. Insurgent activity in Cabo Delgado, Mozambique, remained at a high level. Elsewhere in Africa, Islamic groups carried out attacks across the Sahel region, particularly in Mali, Burkina Faso and Northern Cameroon. The war in Ukraine is still the predominant conflict zone globally but tensions in the Taiwan Strait remain a concern. 
Our security assessment map can assist the travel planning process by raising awareness of the potential threats. The welfare of your employees should be paramount, being informed is an integral part of ensuring their safety. The Neptune P2P Group Security Risk Assessment Map gives you a heightened understanding of the level of threat and risk associated with the country you are operating in, allowing you to better prepare your staff for the unpredictability of traveling in some of the more challenging regions of the world.
On land, the 'Risk Index' is based on data drawn from Neptune P2P Group's security intelligence platform and shows where national events and incidents such as war and conflict, insurgency, terrorism, civil unrest and political violence are factored in to produce a country risk rating including heat map areas depicting recent 'Hotspots'. In the Maritime Domain, areas at risk from maritime crime and piracy are displayed alongside military and commercially assessed High-Risk Areas and Voluntary Reporting Areas.
The location and type of maritime security incidents reported in each quarter by International crime agencies, military organisations and security platforms are also shown, these incidents are reported in more detail in Neptune P2P Group's Monthly Incident Report.