Indian Ocean HRA
Overview
The threat of piracy still exists in the waters of the Southern Red Sea/ Bab el Mandeb, Gulf of Aden including Yemen and the northern Somali coast, Arabian Sea/Gulf of Oman and off the eastern and southern Somali coastline. Although the opportunity for attacks has reduced, Somali pirates continue to possess the motivation and capability to carry out attacks.
The Round Table of International Shipping Associations plus the Oil Companies International Marine Forum (OCIMF), have announced that the geographic boundaries of the 'High Risk Area' (HRA) for piracy in the Indian Ocean will be reduced with effect from 01st May 2019, with new advice also issued to merchant ship operators.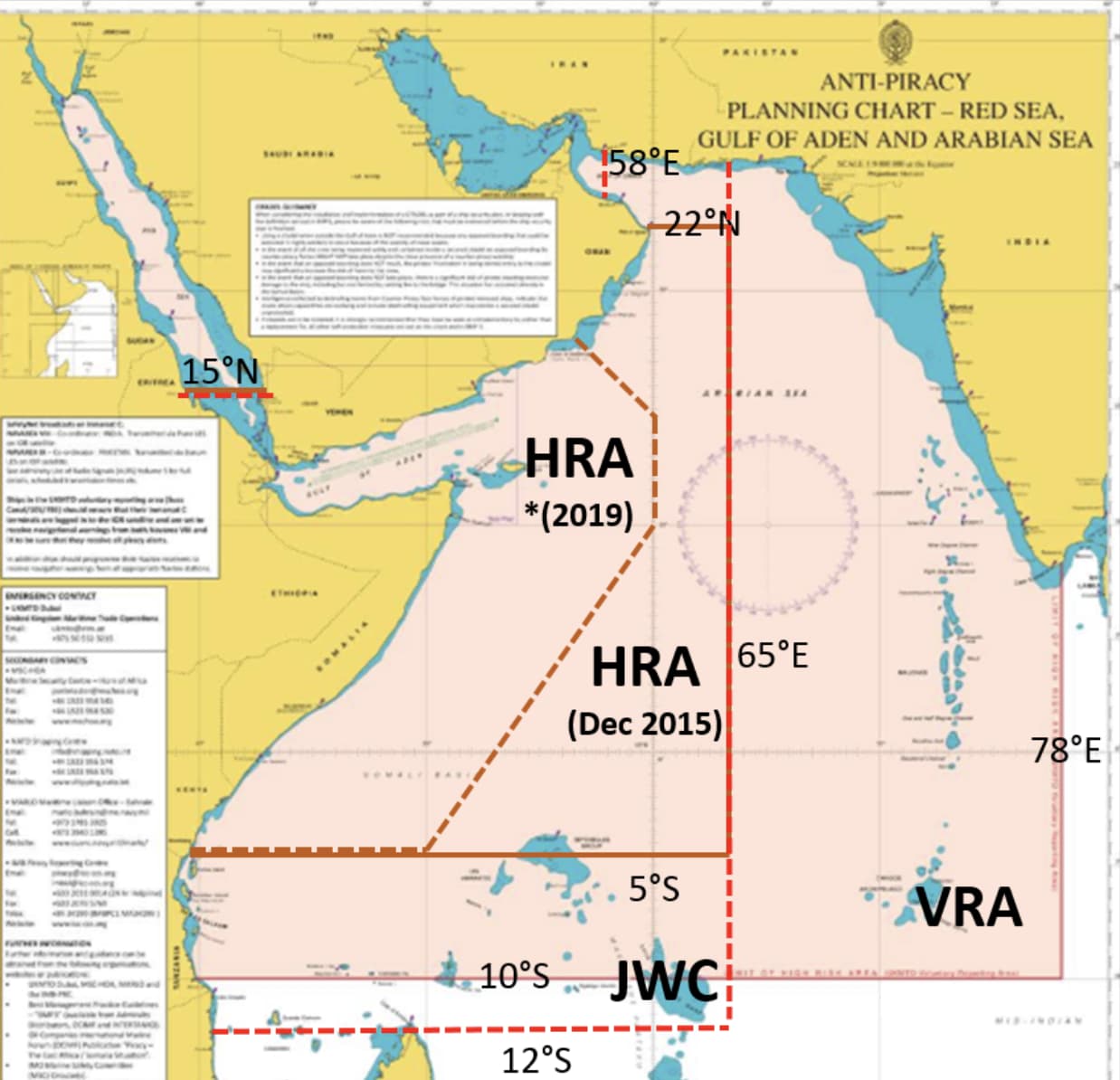 Reported incidents HRA 8th – 14th March
There have been no reported piracy incidents reported in the High Risk Area (HRA) during this reporting period.
Ongoing threats
It is highly unlikely that international shipping is being directly targeted by combatants in the Yemen conflict, but there remains a risk of misidentification and miscalculation. The situation is fluid and the threats to shipping can change rapidly. Ship operators should carry out detailed risk assessments for each voyage into the area using the latest threat information.

Considerations:
Masters are advised to remain vigilant at all times inside the High-Risk Area (HRA) and follow the guidance and protective measures, as set down in BMP5. In the past, it has been reported that Pirate Attack Groups (PAG) conducted 'soft approaches' on merchant ships transiting the HRA. Skiffs have been known to approach vessels in order to probe the reaction of the crew and any possible security teams on-board. If the pirate approach does not elicit a response, the pirates may then proceed with an attack, using additional skiffs. The guidance in BMP5 remains relevant and merchant vessels transiting the High-Risk Area are encouraged to comply with its three fundamentals; register at MSCHOA, report to UKMTO and implement Self Protection Methods.
Yemen
Reported Saudi-led coalition airstrikes killed 22 civilians, including 12 children and 10 women, in Kushar district in Hajjah governorate in north western Yemen on March 10 and 11. The airstrikes injured 30 other people. Pro-Saudi media blamed al Houthi artillery for the attack, which occurred in an area where al Houthi forces have been fighting a tribal uprising.
Al Houthi forces launched a Badr P1 missile targeting forces aligned with the Abdu Rabbu Mansour Hadi government in western Hiran district in Hajjah governorate in north western Yemen on March 12, according to the al Houthi defence ministry news outlet. The al Houthi movement is mobilizing forces to attack Hiran district from Kushar district, according to pro-Hadi media.
Somalia
Al Shabaab claimed that 40 Somali tribal leaders pledged allegiance to the leader of al Shabaab, Ahmad Umar, and vowed to fight the "occupiers" during a ceremony in Lower Shabelle region in southern Somalia on March 11. Al Shabaab released photos of the ceremony, which Hussein Ali Fidow, a senior al Shabaab official, oversaw. Fidow spoke about al Shabaab's provision of governance to local communities. The ceremony marked the end of a month-long course on shari'a law that al Shabaab gave to the elders.
U.S.-backed Somali National Army (SNA) forces attacked an al Shabaab camp in Gambole village in Middle Shabelle region in southern Somalia on March 8. U.S. aircraft conducted an airstrike in support of the operation, which killed eight militants.