Indian Ocean HRA Overview
One report of a suspicious approach close to the Bab el Mandeb Strait/Southern Red Sea.
No significant incidents to report this week
The tactical situation across the Indian Ocean High Risk Area (HRA) remains the same in terms of the threat of piracy and armed robbery. The reporting period (5 – 12 July) has remained quiet, with one reported suspicious approach and with no confirmed piracy incidents to report.
At present the Southwest Monsoon is influencing the Indian Ocean, characterised by storms and strong winds. Therefore, activity reported most recently has occurred in more sheltered areas such as the Bab-el-Mandeb Strait where skiffs are able to operate. Reports have indicated that Somali pirates may use the monsoon as cover for attacks against merchant ships in areas such as the Gulf of Aden where weather conditions are not as severe. The current assessment is that piracy attacks will remain sporadic and at a low level.
Reported Incidents HRA
1 incident to report during the reporting period (UKMTO)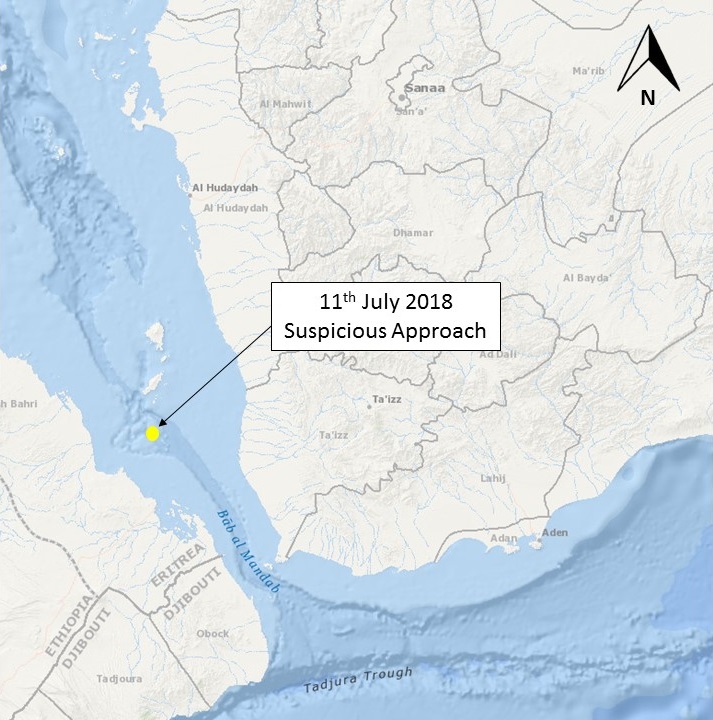 Incident details: At 0810UTC on 11th July an MV reported sighting a group of skiffs in posn 1322N 04245E (Southern Red Sea/Bab el Mandeb). One skiff with 8 POB approached to within 0.2nm and crew reported to have sighted a ladder. No aggressive manoeuvres reported. AST showed weapons and skiff moved away.
Intelligence comments: It is assessed that piracy activity will be seen predominantly in more sheltered areas during the current monsoon period. The likelihood of attacks in areas such as the Bab el Mandeb Strait and Gulf of Aden remain high. In relation to the potential sighting of a ladder on-board the skiff, Somali pirates will continue to approach vessels to determine the level of hardening security.
It is also worthy to note that during the monsoon period, illegal fishing vessels may be more concentrated in sheltered areas. Illegal fishing boats/skiffs can be aggressive in attempts to warn merchant traffic away from their nets.
Yemen 
Hodeidah Offensive Update
The offensive to retake Hodeidah has been halted at present. Reportedly, no major gains have been made by Saudi-led coalition forces to re-take the Houthi held port of Hodeidah. Talks are in progress to try and gain control through political/more peaceful means. The ongoing battle to regain the port city will pose a continuing risk to shipping in the region.
BMP5 – New Guidance Issued
In light of the ongoing conflict in Yemen, BMP4 has been superseded by BMP5. The threat to the maritime domain emanating from Yemen has been one of the factors in the issue of BMP5. BMP5 includes additional guidance on how to mitigate a wider range of maritime threats including piracy, conflict spilling over into the maritime domain and terrorism.
In addition to this, a new Maritime Global Security website has been launched including the new publication the 'Global Counter Piracy Guidance for Companies, Masters and Seafarers' covering the threat to shipping worldwide. Website and publications can be found at: www.maritimeglobalsecurity.org.
Somalia
Al Shabaab continue to be increasingly active in Somalia. The militant group has been battling the Somali Federal Government (SFG) in an effort to govern Somalia. Since 2013, al Shabaab pledged allegiance to al-Qaeda attracting the United States to execute raids and airstrikes against the group. However increased US airstrikes have not enabled African Union Mission (AMISOM) and Somali security forces to gain enough momentum against the terrorist group as al Shabaab has yet to have suffered any great loss of territory or significant casualties from the airstrikes. Al Shabaab continues to maintain strongholds in southern and central Somalia and continue to carry out attacks against military and civilian targets.
Somalia is a country whereby tribal loyalties are stronger than national ties which have hindered efforts to strengthen unity. Terrorist groups and clan divisions mean that the SFG and Somali forces lack legitimacy outside of Mogadishu. Further to this, al Shabaab further exemplifies the issue of famine, terrorism and corruption making the prospect of stability in Somalia in the near future bleak. Al Shabaab is likely to maintain its present operational tempo in 2018 which leaves huge challenges facing Mogadishu meaning international efforts to stabilise the country will continue for years to come.
Piracy Activity
Until the deep rooted issue of piracy in Somalia are resolved, piracy will continue to be a threat. In recent times Somalia has suffered some of the worst famines in 40 years, this coupled with the struggling government and extreme militant violence has brought millions of people into crisis. Pirate financiers capitalise on the chaos offering opportunities to local people. Somalia has the second-longest coastline in Africa which is largely unregulated. Pirate groups are known to operate in the coastal regions of Puntland namely Eyl and further south in Galmudug namely Hobyo. It is needless to say, as instability in Somalia continues, it will serve as a permissive environment for piracy operations serving as an ongoing threat to shipping in the region.