Indian Ocean HRA Overview
Continued reported incidents reflect that the HRA remains a threat in regards to piracy activity in the region. Recent efforts to improve the security environment will reduce the impact of Somali piracy, however, continuing deterioration of onshore conditions in Somalia such as famine, terrorist groups, a weak central government and poor governance of coastal areas continue to influence piracy in the region. Pirate financiers capitalise on the chaos offering opportunities to local people. Piracy groups onshore Somalia still bear the motivation to try and carry out attacks and still with capability to target merchant vessels. Increasingly, vessels in the HRA are subjected to incidents that appear to be co-ordinated small boat piracy approaches however they choose not to ultimately attack. These incidents are then difficult to classify as attempted piracy or simply as regional patterns of life in the area. However, as seen in recent months there have been numerous attacks and attempted boarding's ranging from incidents in the Somali Basin, Gulf of Oman, Gulf of Aden and the Southern Red Sea. The increased presence of naval patrols and armed security on board vessels act as a deterrent to the threat of piracy, however those vessels transiting in the area without the presence of armed security remain a significant risk.
Reported Incidents HRA
3 incidents to report (UKMTO)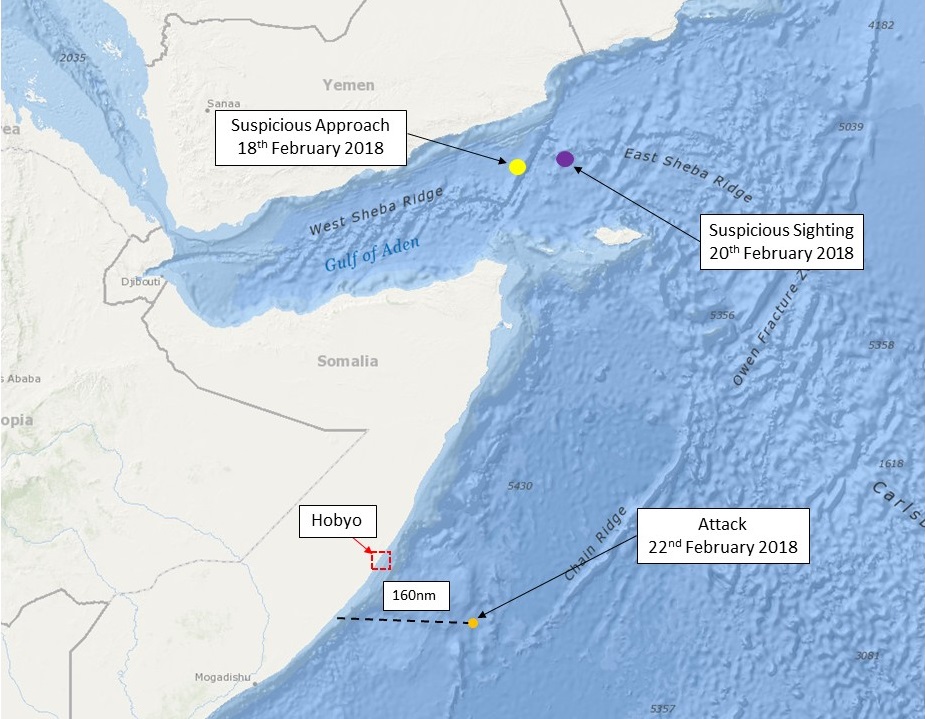 Suspicious Approach: 18th February 2018 at 0530 UTC suspicious approach in position 13 59.2N 051 40.1E (in the vicinity Point B IRTC). Vessel is safe.
Suspicious Sightings: 20th February 2018 UKMTO has received a number of reports relating to the sighting of groups and small boats operating in the vicinity of point B at the eastern end of the IRTC (approximately 1428N 05300E). No aggressive behaviour or pirate paraphernalia observed.
ATTACK: 22nd February 2018 in posn 032600N 0502700E at 2012UTC a MV was attacked by 3 skiffs. Shots fired at MV, on-board AST returned fire. Skiffs no longer visual and vessel is safe.
Intelligence comments: Incidents on the 18th and 20th February are located in the eastern end of the IRTC and the region of Eastern Yemen. This region has been a key entry point for smuggled goods which consist of small and poorly overseen ports located in that region. Further to this it is assessed that the sightings are most likely related to the increase in fishing activity in the area. Vessels transiting in the area are advised to exercise extreme caution.
Intelligence Comments: In relation to the incident on the 22nd February, open source media reports have stated that the vessel involved is the MT Leopard Sun, however this cannot be confirmed at this stage.
The vessel was on route from Sohar to South Africa. It is worthwhile to note that this incident occurred approximately 160nm from the Somali coast, and specifically in the region of the known pirate anchorage areas of Hobyo, in the state of Galmudug where pirate groups are known to operate. The attacks in the Somali Basin which occurred in November 2017 happened approximately 380nm from the Somali Coast. Vessels must exercise extreme vigilance in this area and maintain the furthest possible distance from the Somali Coast.
The personnel from the skiffs fired shots at the vessel which implies intent to board the merchant vessel but were deterred by defensive measures. This incident reflects similar activity as that of the active PAG which was apprehended by naval forces in November 2017 after two attacks on vessels in the Somali Basin. It is assessed that this incident reflects the probability of an active PAG in the region. It is likely that this skiff will be drifting around and utilise the currents in the Somali Basin to conserve fuel and locate further targets. Vessels must exercise extreme caution whilst transiting in the area.
Yemen Update
At present the civil war in Yemen shows no sign of ending, neither side in the war has gained enough power and momentum to reunite the country under a single government. Saudi led coalition airstrikes continue in the Taiz province, Hudaydah province and Sanaa. The current military offensive along Yemen's western coast started early last year and are aimed at cutting major offshore smuggling routes and securing the strategic Bab Al Mandab Strait.
This Week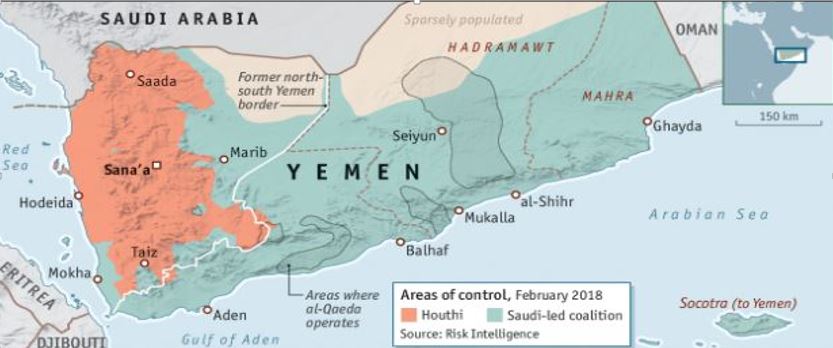 (Economist – Risk Intelligence)
The conquest of southern Arabia – Saudi Arabia and the UAE are gobbling up Yemen: Local groups are taking advantage of the chaos and staking their own claims to territory. The UAE has captured a string of southern ports, such as Mukalla, Aden and Mokha. It controls Yemen's only gas-liquefaction plant, at Balhaf, and an oil-export terminal, at al-Shihr. The strategic island of Socotra looks increasingly like an Emirati base. The UAE also runs two military camps in the remote Hadramawt region, where its troops have trained some 25,000 local fighters.
In securing the ports, say analysts, the UAE's goal is to enhance the position of its own port at Jebel Ali, the region's largest, either by stifling competition or directing traffic in its direction.
Ongoing Threat of Violence/Terrorism at Sea off the Coast of Yemen
Yemen's civil war has created an environment mirroring Somalia's lawlessness. The ongoing conflict in Yemen demonstrates how poor security on land has led to violence spilling out into the maritime domain. Houthi rebels continue to control a large amount of Yemen's red sea coastline.
In relation to coalition forces advancing towards the Red Sea port city of Hudaydah, currently under Houthi rebel control, increases the risk to shipping in the region. In the past Houthi rebels have repeatedly threatened to attack merchant vessels in the region should coalition forces attempt to re-take Hudaydah port. If coalition forces seized Hudaydah it could be argued this would be a turning point in the civil war as the Houthi rebels would lose their main source of finance through the port in which illegal arms are smuggled.
Unconfirmed reports surfaced on the 7th January 2018 stating that the Saudi coalition had destroyed at least one Houthi vessel near Hudaydah port after an alleged attack occurred against a Saudi oil tanker. The vessel was reported to be loaded with explosives and controlled remotely.
The threat of terrorism at sea off the coast of Yemen remains by rebel groups and terrorist organisations such as AQAP. Such is highlighted by attacks against the LNG Tanker Galacia Spirit in October 2016 and the MT Muskie a product tanker in May 2017. Both involved the use of explosive laden skiffs, as an attempt to cause major devastation in the critical international shipping passage of the Bab-el-Mandeb.
It remains a persistent threat that merchant vessels may be the subject of a miscalculated attack or as has been suggested recently, possibly threats of a calculated attack.
BIMCO/ICS/INTERTANKO issued guidance on maritime security in the southern Red Sea and Bab el-Mandeb Strait, an area essential to trade but is subject to new threats arising from the Yemeni conflict, the advice should still be read in conjunction with the BMP4 instructions.
Somalia Update
The UN warned of a grim humanitarian outlook for 2018 in Somalia. Progress towards stability is impeded by extreme drought and hunger, al Shabaab's continued violence and other enormous challenges. These challenges include pervasive corruption in politics and power-brokers willingness to use violence or threat of violence against opponents.
This Week
Al-Shabaab plundering starving Somali villages of cash and children: Al Shabaab militants in Somalia are extorting huge sums from starving communities and forcibly recruiting hundreds of children as soldiers and suicide bombers as the terror group endures financial pressures and an apparent crisis of morale. Intelligence documents, transcripts of interrogations with recent defectors and interviews conducted by the Guardian with inhabitants of areas in the swath of central and southern Somalia controlled by al Shabaab have shone a light on the severity of its harsh rule – but also revealed significant support in some areas.
US kills four Al Shabaab militants in Somali airstrike: US forces conducted an airstrike yesterday in Jamaame, a coastal town in southern Somalia. The strike killed four terrorists associated with al Shabaab. A US Africa Command (AFRICOM) press release said that US forces will continue to partner with the Somali military and the African Union mission in the country in "combined counter terrorism operations and targeting terrorists, their training camps, and their safe havens throughout Somalia and the region." The US mission in the country aims "to protect US citizens and to disable terrorist threats."
Al Shabaab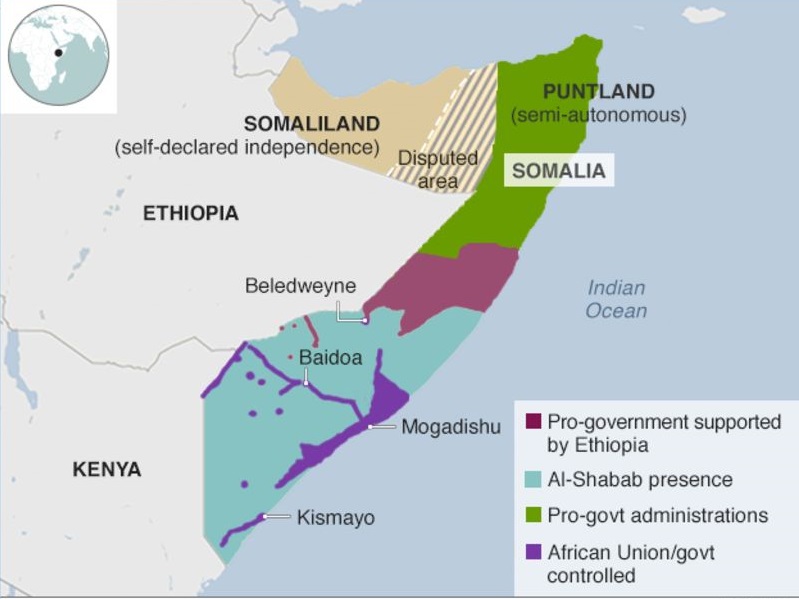 Al Shabaab has been increasingly active in Somalia in recent months. The militant group has been battling the Somali Federal Government (SFG) in an effort to govern Somalia. Since 2013, al Shabaab pledged allegiance to al-Qaeda attracting the United States to execute raids and airstrikes against the group. However increased US airstrikes have not enabled African Union Mission (AMISOM) and Somali security forces to gain enough momentum against the terrorist group, al Shabaab has not suffered any great loss of territory or significant casualties from the airstrikes. Al Shabaab continues to maintain strongholds in southern and central Somalia and continue to carry out attacks against military and civilian targets. Somalia is a country whereby tribal loyalties are stronger than national ties. The SFG and Somali forces lack legitimacy outside of Mogadishu. Further to this, al Shabaab further exemplifies the issue of famine, terrorism and corruption making the prospect of stability in Somalia in the near future bleak. Al Shabaab is likely to maintain its present operational tempo in 2018 and further expand its territory in central and southern Somalia.
Piracy
In 2017 between March and May, five vessels were hijacked in Somali waters, whilst this was reported by many to be a resurgence of Somali piracy, it can be assessed as more likely to be a result of a permissive environment during the inter-monsoon period allowing skiffs and PAGS to operate with ease. Until the deep rooted issue of piracy in Somalia are resolved, piracy will continue to be a threat. 2017 saw the worst drought Somalia has seen in 40 years, this coupled with the struggling government and extreme militant violence has brought 6.7 million people into crisis. Pirate financiers capitalise on the chaos offering opportunities to local people. Pirate groups are known to operate in the coastal regions of Puntland, namely Eyl and further south in the Galmudug region, namely Hobyo. It is needless to say, as the increased instability in Somalia continues, it will serve as a permissive environment for piracy operations with an ongoing threat to shipping in the region.