Indian Ocean HRA
Overview
Reports of shooting towards fishing vessels in transit have been confirmed by the Somali Maritime Police along the coast of Lower Shabelle between 3rd and 17th April. The last incident involved 4 fishermen sailing off Danane (28 nm south west of Mogadishu) on the 17th April. Danane is a coastal town which was recently seized by al Shabaab forces.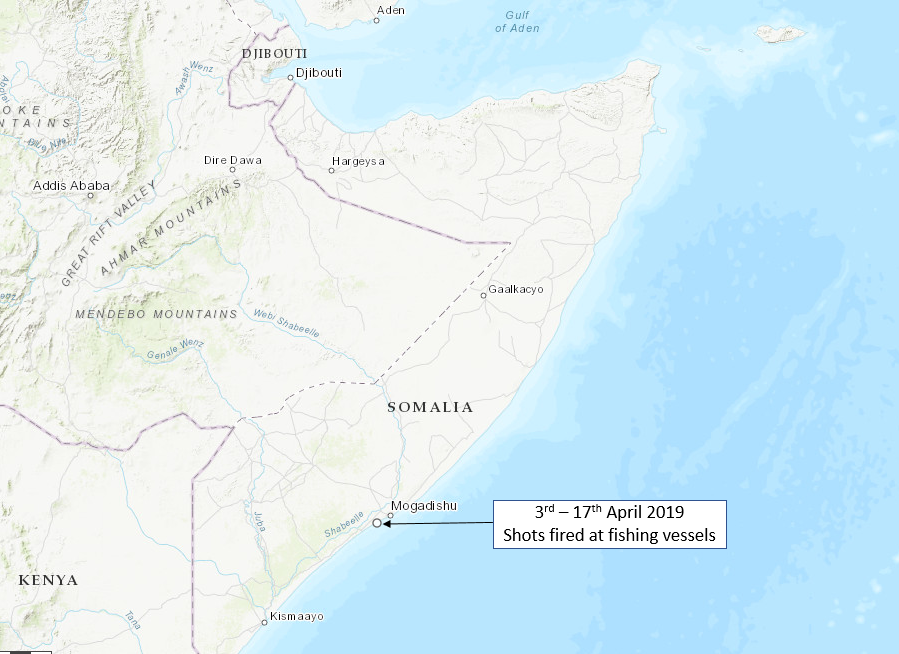 Merchant and fishing vessels transiting or fishing in this coastal area are advised to keep well clear of coastline.
The threat of piracy still exists in the waters of the Southern Red Sea/ Bab el Mandeb, Gulf of Aden including Yemen and the northern Somali coast, Arabian Sea/Gulf of Oman and off the eastern and southern Somali coastline. Although the opportunity for attacks has reduced, Somali pirates continue to possess the motivation and capability to carry out attacks.
Reported incidents HRA 12th April – 18th April
3rd – 17th April – Shootings confirmed 28nm south west of Mogadishu targeting coastal fishing vessels at sea.
Ongoing threats
It is highly unlikely that international shipping is being directly targeted by combatants in the Yemen conflict, but there remains a risk of misidentification and miscalculation. The situation is fluid and the threats to shipping can change rapidly. Ship operators should carry out detailed risk assessments for each voyage into the area using the latest threat information.

Considerations:
Masters are advised to remain vigilant at all times inside the High-Risk Area (HRA) and follow the guidance and protective measures, as set down in BMP5. In the past, it has been reported that Pirate Attack Groups (PAG) conducted 'soft approaches' on merchant ships transiting the HRA. Skiffs have been known to approach vessels in order to probe the reaction of the crew and any possible security teams on-board. If the pirate approach does not elicit a response, the pirates may then proceed with an attack, using additional skiffs. The guidance in BMP5 remains relevant and merchant vessels transiting the High-Risk Area are encouraged to comply with its three fundamentals; register at MSCHOA, report to UKMTO and implement Self Protection Methods.
Yemen
UN Special Envoy to Yemen Martin Griffiths announced on April 15 that the Hadi government and al Houthi movement agreed to a plan to implement the first phase of redeployments in al Hudaydah governorate in western Yemen as part of the UN-brokered Stockholm Agreement. Al Houthi forces are set to withdraw from Ras Isa Oil Terminal and Saleef Port in al Hudaydah governorate during the first phase of redeployments.
A spokesman for the al Houthi armed forces Yayha Sarea revealed a new domestically-made Badr F missile during a press conference in the al Houthi-controlled capital Sana'a on April 16. The al Houthi movement claims that the Badr F is a ballistic missile with a range of 160 kilometers, which is 30 kilometers greater than that of the Houthis' existing Badr 1P missile.
Somalia
Suspected al Shabaab militants kidnapped two Cuban doctors in Mandera town on the Kenya-Somalia border in north-eastern Kenya on April 12. The gunmen killed a Kenyan police officer in the course of the abduction before crossing into Somalia.
Likely U.S. aircraft conducted an airstrike in Puntland region in northern Somalia that killed the deputy commander of the Islamic State in Somalia Abdihakim Dhuqub on April 14. Unidentified aircraft fired several missiles at a vehicle transporting Dhuqub several kilometres outside Xiriiro village in the Qandala mountains in Puntland. Dhuqub was one of the founders of al Ittihad al Islamiya, a predecessor of al Shabaab, in the 1990s.