Indian Ocean HRA Overview
Continued reported incidents reflect that the HRA remains a threat in regards to piracy activity in the region. Recent efforts to improve the security environment will reduce the impact of Somali piracy, however, continuing deterioration of onshore conditions in Somalia and Yemen such as famine, terrorist groups, weak central government and poor governance of coastal areas continue to influence piracy in the region. Pirate financiers capitalise on the chaos offering opportunities to local people. Piracy groups onshore Somalia still bear the motivation to try and carry out attacks and still with capability to target merchant vessels. Increasingly, vessels in the HRA are subjected to incidents that appear to be co-ordinated small boat piracy approaches however they choose not to ultimately attack. These incidents are then difficult to classify as attempted piracy or simply as regional patterns of life in the area. However, as seen in recent months there have been numerous attacks and attempted boarding's ranging from incidents in the Somali Basin, Gulf of Aden and the Southern Red Sea. The increased presence of naval patrols and armed security on board vessels act as a deterrent to the threat of piracy, however those vessels transiting in the area without the presence of armed security remain a significant risk.
Reported Incidents HRA
1 incident to report during the reporting period (UKMTO)
Incident details: On the 10th May 2018 the UKMTO reported an attack in posn 1440N 04145E. Vessel and crew are safe. Vessels transiting in the area are advised to exercise extreme caution. (Source: UKMTO)
Intelligence Comments: Originally reported as an attack, later reports issued by open source media highlighted that an incident had occurred on board the Turkish-flagged
bulk carrier INCE INEBOLU. The vessel was anchored 70nm west of Hodeidah waiting to transit to Saleef when an explosion occurred. Houthi media reporting stated that the ship had been struck by a missile fired from a Saudi coalition warplane. The explosion however is thought to have occurred from an internal blast. As  seen in the image to the right, this shows a hole close to the vessel's waterline with jagged edges curling outwards. According to media reports the coalition had boarded the vessel reported an explosion had occurred from the inside to the outside.
Yemen Update
This Week
(Economist – Risk Intelligence)
Coalition forces launch 'Operation Red Thunder': During the past week 'Operation Red Thunder' has been launched backed by the coalition including aircraft and naval forces in an operation to re-take the Houthi held port city of Hudaydah. The military operation is aimed at eliminating Houthi rebels from the districts on the Red Sea coastline and also to prevent further threats to international shipping. If the operation is successful this could be seen as a turning point in the war as the Houthi rebels would lose their main source of finance through the port in which illegal arms are smuggled.
Thousands of migrants enter Yemen from Africa every month: Nearly 100,000 migrants arrived in Yemen in 2017. Migrants often leave their homes on foot and walk through Djibouti where they take boats across the Gulf of Aden to many different areas in Yemen such as Aden, Lahj, Shabwah and Hadramout Governorates where attempts are then made to get to the border with Saudi Arabia. As highlighted by the UN, Yemen is experiencing the worst humanitarian crisis in the world and is obviously not a safe route for migrants. In light of this, continued small boat activity will be seen in the Gulf of Aden as large numbers of migrants make the journey to Yemen.
Ongoing Threat of Violence/Terrorism at Sea off the Coast of Yemen
Yemen's civil war has created an environment mirroring Somalia's lawlessness. The ongoing conflict in Yemen demonstrates how poor security on land has led to violence spilling out into the maritime domain as Houthi rebels continue to control a large amount of Yemen's red sea coastline.
On the 3rd April 2018, Houthi rebels conducted a missile attack near Hudaydah against the Abqaiq, a Saudi tanker. There is no indication that the Houthi rebels intend to attack non-Saudi vessels, however Hudaydah port continues to be used as a launchpad for Houthi rebel attacks and arms smuggling. Attacks of this nature by the Houthi rebels in the maritime and land domain, are often conducted in response to the Saudi coalition actions in the Yemeni conflict.
Ongoing reporting indicates that coalition forces are continuing to make advances towards Hudaydah which is currently under Houthi rebel control. As the advances towards Hudaydah continue this in turn increases the likelihood of Houthi rebels responding with further attacks against Saudi targets on land and sea, increasing the risk to shipping in the region. In the past Houthi rebels have repeatedly threatened to attack merchant vessels in the region should coalition forces attempt to re-take Hudaydah port.
The continued proliferation of weapons in Yemen increases the possibility that rebel and other groups may seek to conduct an attack against shipping using WBIED's.
Somalia Update
This Week
How educational programs in Somalia could help to counter violent extremism: A major question for the Somali government, US forces and other actors on the ground is how to counter the appeal of violent groups among young people which are terror group's most common recruits. In increasing access to education this may address young people's frustrations with the status quo and steer them away from armed groups like al-Shabaab. (Washington Post)
Fighting over disputed lands between Somaliland and Puntland: Dozens of people have been killed in clashes between troops from the breakaway region of Somliland and the semi-autonomous region of Puntland. Puntland and Somaliland have been engaged in conflict over the disputed Sool region for more than 10 years. The two sides have recently been fighting over the ownership of Tuka Raq village which was seized by Somaliland last month. The village is close to Garowe the capital of Puntland. (Daily Trust)
EU NAVFOR helping to keep Somali fisherman safe: EUNAVFOR have helped to train members of the Somali Police Force Maritime Unit off the coast of Mogadishu. By enhancing the Somali Police Forces seafaring knowledge and skills, the local law enforcement agencies are more able to protect the Somali fishermen working the local waters providing food for their families and villages. EUNAVFOR's mission is to deter, prevent and repress acts of piracy whilst at the same time build maritime capacity so keeping the international trade routes open. (EUNAVFOR Somalia)
Al Shabaab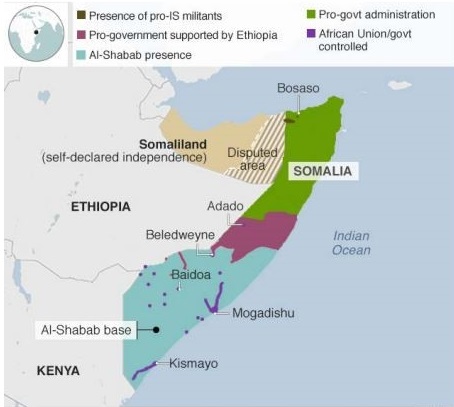 Al Shabaab continue to be increasingly active in Somalia. The militant group has been battling the Somali Federal Government (SFG) in an effort to govern Somalia. Since 2013, al Shabaab pledged allegiance to al-Qaeda attracting the United States to execute raids and airstrikes against the group. However increased US airstrikes have not enabled African Union Mission (AMISOM) and Somali security forces to gain enough momentum against the terrorist group as al Shabaab has yet to have suffered any great loss of territory or significant casualties from the airstrikes. Al Shabaab continues to maintain strongholds in southern and central Somalia and continue to carry out attacks against military and civilian targets. Somalia is a country whereby tribal loyalties are stronger than national ties which have hindered efforts to strengthen unity. Terrorist groups and clan divisions mean that the SFG and Somali forces lack legitimacy outside of Mogadishu. Further to this, al Shabaab further exemplifies the issue of famine, terrorism and corruption making the prospect of stability in Somalia in the near future bleak. Al Shabaab is likely to maintain its present operational tempo in 2018 which leaves huge challenges facing Mogadishu meaning international efforts to stabilise the country will continue for years to come.
Piracy
In 2017 between March and May, five vessels were hijacked in Somali waters, whilst this was reported by many to be a resurgence of Somali piracy, it can be assessed as more likely to be a result of a permissive environment during the inter-monsoon period allowing skiffs and PAGS to operate with ease. Until the deep rooted issue of piracy in Somalia are resolved, piracy will continue to be a threat. 2017 saw the worst drought Somalia has seen in 40 years, this coupled with the struggling government and extreme militant violence has brought 6.7 million people into crisis. Pirate financiers capitalise on the chaos offering opportunities to local people. Somalia has the second-longest coastline in Africa which is largely unregulated. Pirate groups are known to operate in the coastal regions of Puntland namely Eyl and further south in Galmudug namely Hobyo. It is needless to say, as instability in Somalia continues, it will serve as a permissive environment for piracy operations with an ongoing threat to shipping in the region.