Overview
Coalition forces are currently advancing in the Hudaydah Province to the rebel held Red Sea port city of Hudaydah. This increases the risk to shipping in the region. In the past Houthi rebels have repeatedly threatened to attack merchant and coalition vessels in the region should coalition forces attempt to re-take Hudaydah port.
Yemen's Houthi rebels warned on the 9th January 2018 that they would block traffic in the Red Sea if coalition forces continued to advance on the port of Hudaydah. The current military offensive along Yemen's western coast started early last year and is aimed at cutting major offshore smuggling routes and securing the strategic waterway of the Red Sea and the Bab-el-Mandeb Strait. It is not currently clear how Houthi rebels would block merchant traffic in the Red Sea, however based on past incidents rebels have used missiles, explosive-laden skiffs and naval mines to attempt to cause devastation to traffic in these strategic waterways. In January 2017, Houthi forces attacked a Saudi warship off the Yemeni coast using an explosive laden skiff killing two sailors. In September and October 2016, two US warships and a Saudi-led coalition vessel were targeted by missile fire from rebel-held territory.
The port of Hudaydah accounts for 80% of Yemen's imports and is a crucial entry point for fuel and food. If coalition forces seized Hudaydah it could be argued this would be a turning point in the civil war, not only in regards to the humanitarian situation but also the Houthi rebels would lose their main source of finance through the port in which alleged illegal arms are smuggled.
It remains a persistent threat that merchant vessels may be the subject of a calculated or miscalculated attack.
Recent Incidents in the Red Sea & Bab-el-Mandeb Strait
Two incidents to report (UKMTO)
6th Jan 18 Suspicious Approaches, Southern Red Sea, Hudaydah: In the last 12 hours UKMTO has received i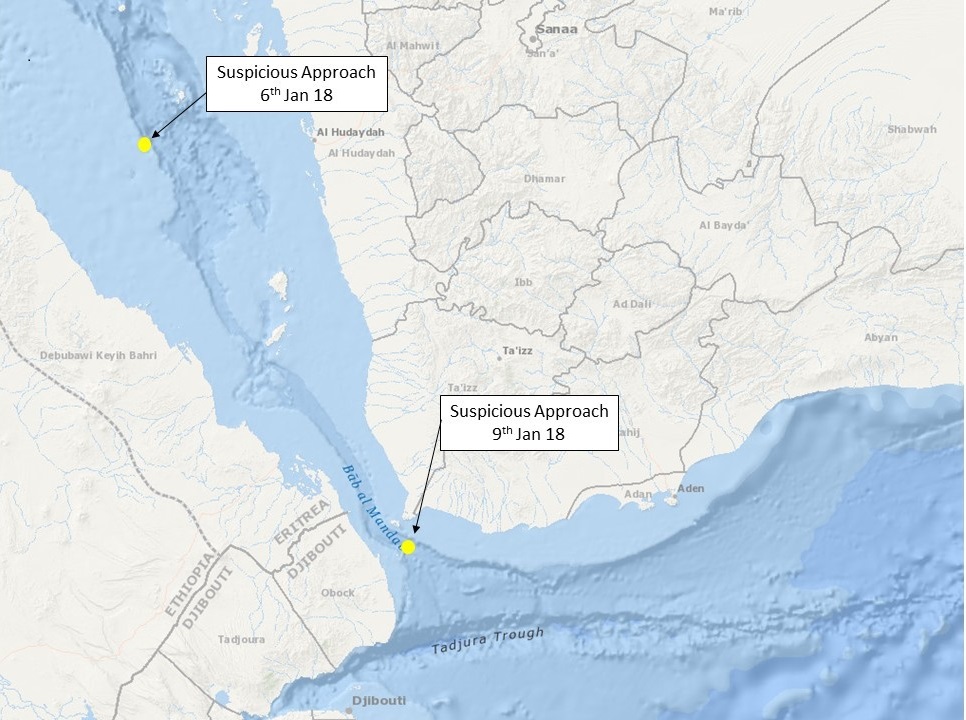 nformation from three separate merchant vessels in an area centred on position 14.14N 041.58E, Southern Red Sea. Merchant vessels were approached up to 1 cable by up to three 7-10M rigid grey hulled boats with weapons, manned by up to 6 persons on each. None of the merchant vessels were attacked however all ships are advised to maintain a high state of vigilance in this area.
Intelligence comment: Further to the above incident details on the 6th of January various sources including merchant vessels and the UKMTO reported a number of incidents involving a coalition warship and suspected Houthi armed skiffs in the Red Sea off the coast of Hudaydah. It was reported that three grey hulled skiffs, possibly with mounted weapons approached a merchant vessel which was being escorted by a coalition warship. There were no confirmed reports of the skiff firing at the merchant vessel, however an exchange of fire between the coalition warship and the skiff was reported. Both vessels and crew safe. It is assessed as probable that this incident was related to the ongoing conflict in Yemen rather than a piracy incident and that the coalition warship, not the MV was the target of the skiffs.
9th Jan 18 Suspicious Approach, Bab el Mandeb Strait: Between 0815Z and 0830Z an MV in posn 12 31N 043 29.10E was approached by 2 skiffs each with 5 POB with faces obscured. The skiffs aborted the approach at 3 cables (apparently due to rough seas). Vessel and crew are safe.
Intelligence comment: Houthi rebels control swathes of territory in the west of Yemen, including much of Yemen's Red Sea coast. It is possible that the suspicious approach reported on the 9th Jan could be linked to the conflict in Yemen. The incident was located in close proximity to the Ta'izz Province in which violence continues involving Houthi rebels and coalition forces.