Overview
Incident details: ATTACK in posn 03 26.00N 050 27.00E (Somali Basin) at 2012 UTC an MV was attacked by 3 skiffs. Shots fired at MV, on-board AST returned fire. Skiffs no longer visual and vessel is safe.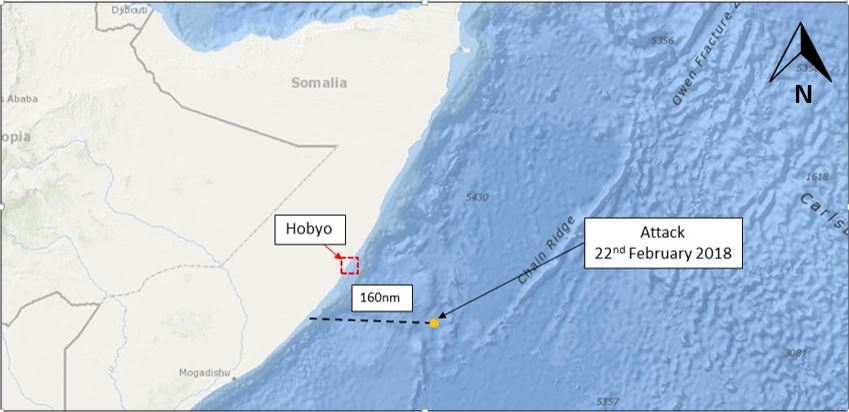 Intelligence Comments: In relation to this incident on the 22nd February, open source media reports have stated that the vessel involved is the MT Leopard Sun, however this cannot be confirmed at this stage. The vessel was on route from Sohar to South Africa.
It is worthwhile to note that this incident occurred approximately 160nm from the Somali coast, and specifically in the region of the known pirate anchorage areas of Hobyo, in the state of Galmudug where pirate groups are known to operate. The attacks in the Somali Basin which occurred in November 2017 happened approximately 380nm from the Somali Coast. Vessels must exercise extreme vigilance in this area and maintain the furthest possible distance from the Somali Coast.
The personnel from the skiffs fired shots at the vessel which implies intent to board the merchant vessel but were deterred by defensive measures.
This incident reflects similar activity as that of the active PAG which was apprehended by naval forces in November 2017 after two attacks on vessels in the Somali Basin. It is assessed that this incident reflects the probability of an active PAG in the region. It is likely that this skiff will be drifting around and utilise the currents in the Somali Basin to conserve fuel and locate further targets. Vessels must exercise extreme caution whilst transiting in the area.