Indian Ocean HRA
Overview
No incidents reported in the High Risk Area during the reporting period.
The tactical situation across the Indian Ocean High Risk Area (HRA) remains low in terms of the threat of piracy, there have been no confirmed incidents issued by the UKMTO since July 2018.
Throughout August 2018 the conflict in Yemen continued to threaten the maritime domain. This in turn illustrates that the High Risk Area remains vulnerable to not only piracy but also violence on land threatening major shipping routes. The current assessment is that piracy attacks will remain sporadic and at a low level along with rebel/terrorist groups continuing to conduct attacks in the region for the foreseeable future.
Adverse weather conditions continue to influence the Indian Ocean, piracy operations are therefore more likely to occur in more sheltered areas such as the Bab-el-Mandeb strait and Gulf of Aden where skiffs are able to operate with more ease. Reports have indicated that Somali pirates may use the monsoon as cover for attacks against merchant ships in areas such as the Gulf of Aden where weather conditions are not as severe.
Reported Incidents HRA
No incidents to report during the reporting period (UKMTO)
More than 7,000kg of hashish with a street value of $3.5 million was confiscated from the Indian Ocean by a French naval vessel operating in the region. A total of 3,900kg of hashish were discovered on a fishing dhow spotted behaving in a suspicious manner, prompting French frigate FS Floreal to conduct a boarding. A few hours later, the vessel's helicopter detected another fishing dhow behaving suspiciously and once again the crew conducted a flag verification boarding and let loose Max, the ship's sniffer dog who uncovered another 3,500kg of hashish.
This was the most significant seizure of illicit drugs in the Indian Ocean since the Royal Saudi Naval Force took over command of the Combined Task Force (CTF) 150 in August, which operates under the Bahrain-based Combined Maritime Forces (CMF).CTF150 has seized and destroyed more than 1,500kg of heroin and over 40,000kg of hashish in the last 12 months. Profits from the sale of narcotics is a known source of funding for terrorist activities in the region.
Yemen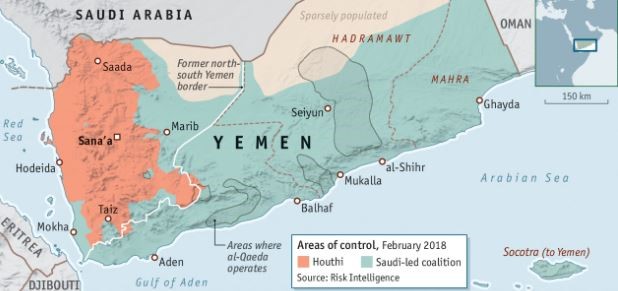 Hodeidah Offensive
Hodeidah port continues to be operational as the offensive pushes further into the city of Hodeidah. This is likely to disrupt port operations. It is estimated over 900,000 people are in desperate need of humanitarian assistance in the Hodeidah governorate alone. The port serves approximately 80% of Yemen's imports making it critical port for aid supplies to enter the country.
No attacks against shipping by Houthi rebels have been recorded since July 2018 although the threat of attack remains. Attacks with the use of explosive laden skiffs have been used frequently by the rebels. Saudi vessels and warships remain the target although it cannot be ruled out that commercial shipping may be subjected to a miscalculated attack.
29-09-2018
Saudi-led coalition forces conducted multiple strikes that killed al Houthi leaders in al Hudaydah, Western Yemen. The first strike killed senior leader Mbkhout Saleh Salama, assistant commander of the Central Security forces in Sana'a, and 17 others. A second strike killed leaders Ahmad Saad Ibrahim al Alawi and Ibrahim Mohammed Saeed al Jarmi. The Emirati-backed Southern Giants Brigade and National Resistance Forces also carried out attacks from the area of al Jahah, South of al Hudaydah. The Southern Giants Brigade claimed to arrest al Houthi field commander Muhammad Ali Saleh Ghalib al Suwaidi and kill a number of his companions in Hiss Province. The group also destroyed a number of al Houthi rebel caches on the outskirts of the city.
30-09-2018
Fifty-four Houthi militias were killed, and 13 others captured during military operations carried out on Yemen's Red Sea Coast, by joint Yemeni Resistance Forces, with the support of the Saudi-led Arab Coalition.
Colonel Turki Al Malki, the Official Spokesman of the Arab Coalition, has stated that the Royal Saudi Navy Forces detected an attempt by the Iranian-Houthi militia to target Port of Jazan, Saudi Arabia.
According to the Saudi Press Agency, Malki clarified, "At (04:50) and (05:05) the Royal Saudi Navy Forces detected the movement of two remote control explosive boats headed to the Port of Jazan. They were intercepted and destroyed in accordance with the Rules of Engagement, which has led to minimal damage".
Somalia
Al Shabaab continue to be increasingly active in Somalia, maintaining strongholds in southern and central Somalia. The terrorist group continue to carry out attacks against military and civilian targets.
Somalia is a country whereby tribal loyalties are stronger than national ties which have hindered efforts to strengthen unity. Terrorist groups and clan divisions mean that the SFG and Somali forces lack legitimacy outside of Mogadishu. Further to this, al Shabaab further exemplifies the issue of famine, terrorism and corruption making the prospect of stability in Somalia in the near future bleak. Al Shabaab is likely to maintain its present operational tempo in 2018 which leaves huge challenges facing Mogadishu meaning international efforts to stabilise the country will continue for years to come.
IS activity
Islamic State (IS) group has been mounting noticeably more attacks in Somalia in recent months, following the group's loss of its caliphate heartlands in Syria and Iraq late last year. Most of the attacks that IS has claimed in Somalia were labelled as targeted assassinations against Somali intelligence and security personnel, with some of them filmed taking place in broad daylight in public. And while the group had initially claimed many of the attacks in the south-western city of Afgoye, most of its latest claims were reported in the nearby capital Mogadishu.