Indian Ocean HRA Overview
No incidents reported in the High Risk Area during the reporting period.
The tactical situation across the Indian Ocean High Risk Area (HRA) remains low in terms of the threat of piracy, there have been no confirmed incidents issued by the UKMTO since July 2018.
Throughout August 2018 the conflict in Yemen continued to threaten the maritime domain. This in turn illustrates that the High Risk Area remains vulnerable to not only piracy but also violence on land threatening major shipping routes. The current assessment is that piracy attacks will remain sporadic and at a low level along with rebel/terrorist groups continuing to conduct attacks in the region for the foreseeable future.
Adverse weather conditions continue to influence the Indian Ocean, piracy operations are therefore more likely to occur in more sheltered areas such as the Bab-el-Mandeb strait and Gulf of Aden where skiffs are able to operate with more ease. Reports have indicated that Somali pirates may use the monsoon as cover for attacks against merchant ships in areas such as the Gulf of Aden where weather conditions are not as severe.
Reported Incidents HRA
No incidents to report during the reporting period (UKMTO)
Pakistan Navy seizes three tons of hashish in the North Arabian Sea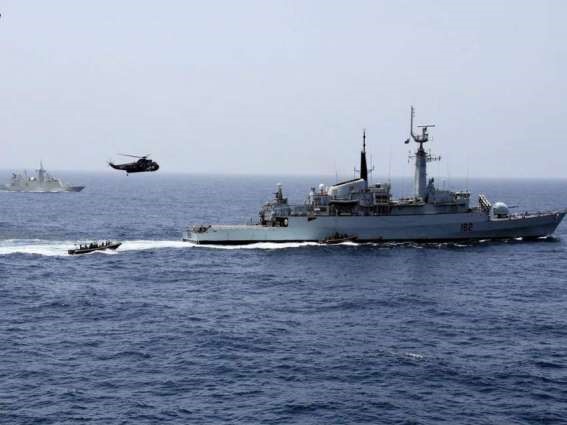 In a joint maritime operation, Pakistan Navy and Pakistan Maritime Security Agency (PMSA) captured approximately three tons of hashish worth millions of dollars from a dhow in the North Arabian Sea. The intelligence based operation was conducted in coordination with Anti-Narcotics Force (ANF). A video released by Pakistan Navy showed personnel standing behind a sack of "hashish-filled" bags recovered during the raid. The seized drugs were supposed to be smuggled into European market via sea.
This follows the recovery of 8,000 kilograms (17,637 pounds) of drugs worth over $90 million in the open market by Pakistan's coastguards in March this year.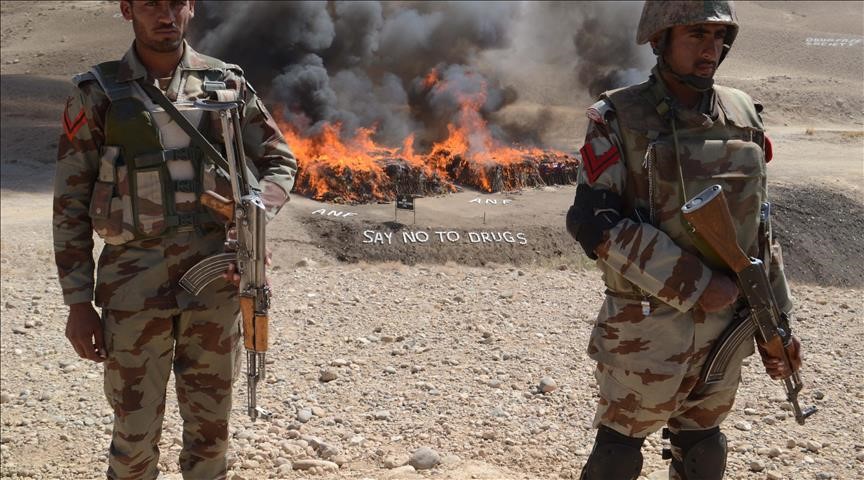 Seizing narcotics at sea is always a risky and complex proposition owing largely to the enormous vastness of the seas that entails a challenging task of seamless monitoring. Nonetheless, this maritime operation was a result of careful planning, ubiquitous surveillance and analysis of the large number of vessels in the area.
Recent large drug seizures in the Arabian Sea highlight the shipments heading in southerly flows are likely to be travelling to regions in East Africa. These regions are used predominantly as transit zones and have a direct impact on the operations of terrorist organisations. The naval task force seeks to disrupt smuggling networks transferring illicit narcotics from Central Asia through to East Africa.
Yemen 
(Economist – Risk Intelligence)
Hodeidah Offensive
Hodeidah port continues to be operational however as the offensive pushes further into the city of Hodeidah this is likely to disrupt port operations. It is estimated over 900,000 people are in desperate need of humanitarian assistance in the Hodeidah governorate alone. The port serves approximately 80% of Yemen's imports making it critical port for aid supplies to enter the country.
No attacks against shipping by Houthi rebels have been recorded since July 2018 although the threat of attack remains. Attacks with the use of explosive laden skiffs have been used frequently by the rebels. Saudi vessels and warships remain the target although it cannot be ruled out that commercial shipping may be subjected to a miscalculated attack.
Failure of another round of U.N. mediated peace talks
Following the collapse of talks, Yemen's president on Wednesday dismissed UN-led attempts to bring Houthi rebels to peace talks as "doomed to fail," telling the United Nations that a firm stance was needed to end the war.
Somalia
Al Shabaab continue to be increasingly active in Somalia, maintaining strongholds in southern and central Somalia. The terrorist group continue to carry out attacks against military and civilian targets.
Somalia is a country whereby tribal loyalties are stronger than national ties which have hindered efforts to strengthen unity. Terrorist groups and clan divisions mean that the SFG and Somali forces lack legitimacy outside of Mogadishu. Further to this, al Shabaab further exemplifies the issue of famine, terrorism and corruption making the prospect of stability in Somalia in the near future bleak. Al Shabaab is likely to maintain its present operational tempo in 2018 which leaves huge challenges facing Mogadishu meaning international efforts to stabilise the country will continue for years to come.
IS Activity:
Islamic State (IS) group has been mounting noticeably more attacks in Somalia in recent months, following the group's loss of its "caliphate" heartlands in Syria and Iraq late last year. Most of the attacks that IS has claimed in Somalia were labelled as targeted "assassinations" against Somali intelligence and security personnel, with some of them filmed taking place in broad daylight in public. And while the group had initially claimed many of the attacks in the south-western city of Afgoye, most of its latest claims were reported in the nearby capital Mogadishu.