Indian Ocean HRA Overview
Continued reported incidents reflect that the HRA remains a threat in regards to piracy activity in the region. Recent efforts to improve the security environment will reduce the impact of Somali piracy, however, continuing deterioration of onshore conditions in Somalia and Yemen such as famine, terrorist groups, weak central government and poor governance of coastal areas continue to influence piracy in the region. Pirate financiers capitalise on the chaos offering opportunities to local people. Piracy groups onshore Somalia still bear the motivation to try and carry out attacks and still with capability to target merchant vessels. Increasingly, vessels in the HRA are subjected to incidents that appear to be co-ordinated small boat piracy approaches however they choose not to ultimately attack. These incidents are then difficult to classify as attempted piracy or simply as regional patterns of life in the area. However, as seen in recent months there have been numerous attacks and attempted boarding's ranging from incidents in the Somali Basin, Gulf of Aden and the Southern Red Sea. The increased presence of naval patrols and armed security on board vessels act as a deterrent to the threat of piracy, however those vessels transiting in the area without the presence of armed security remain a significant risk.
Reported Incidents HRA
No incidents to report during the reporting period (UKMTO)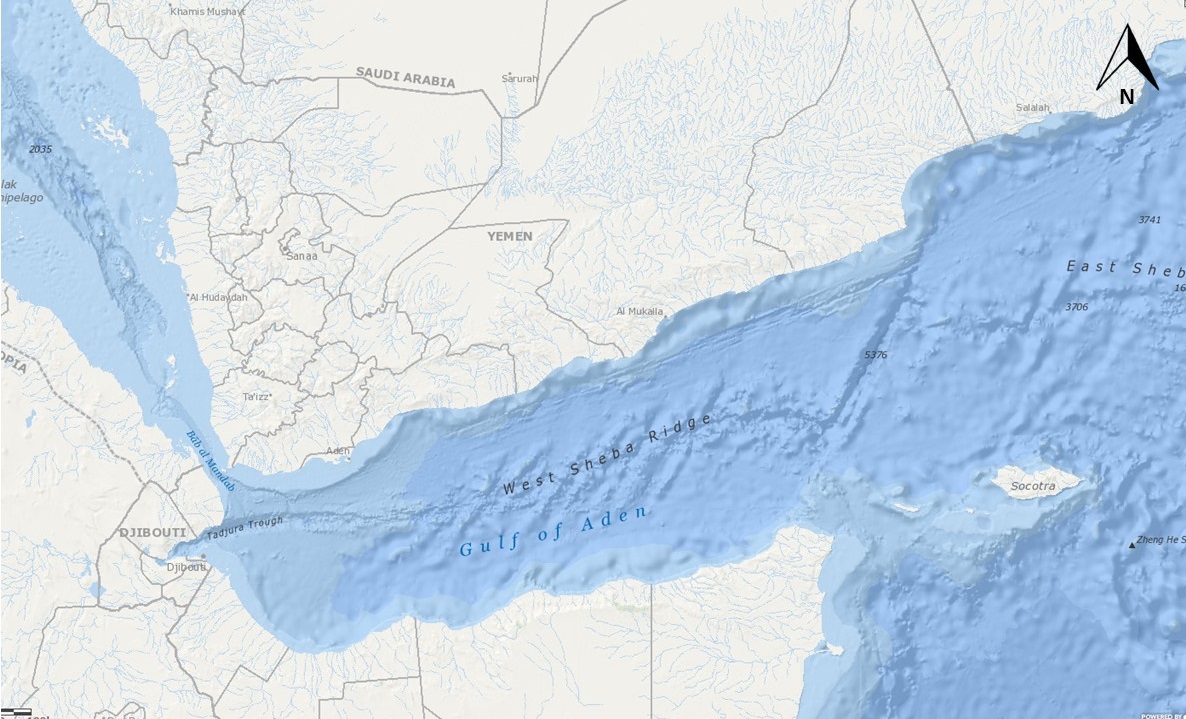 Yemen Update
This Week
(Economist – Risk Intelligence)
17 missing as tropical storm hits Yemen's Socotra Island: Yemen has declared a state of emergency after a tropical storm flooded several villages and capsized boats on the island leaving at least 17 people missing. 200 families have been evacuated from their villages. Coalition forces and international organisations have been asked to provide urgent aid. The storm is expected to hit southern Yemen and the coast of Oman today. It has further been reported that at least 3 ships are missing in the Gulf of Aden, reports issued highlighted that a cargo ship coming from Mukalla had sank 80km off Socotra. (Middle East Monitor 24/05)
Saudi Arabia shoots down Houthi missile from Yemen over Jazan: Saudi Arabia's air defence shot down ballistic missile fired by Houthi rebels from Yemen's Saada governorate. A statement from the Saudi Press Agency stated that it was heading towards Jazan and was fired with the intent to target civilian and populated areas. This incident marks the second time this week that Houthi rebels have targeted the southern city of Jazan. (The National 24/05)
Coalition destroys Houthi boats targeting oil tanker in the Red Sea: State media reported that UAE forces from the Arab coalition destroyed two Houthi boats which were allegedly threatening a commercial oil tanker in the Red Sea near Kamaran, off the port city of Hodeidah. Houthi rebels have launched missiles and used remote-controlled boats to target shipping in the Red Sea near to the port of Hodeidah in the past. Coalition forces on the ground are currently making advances towards Hodeidah with an aim to recapture it from rebel control.  This week the US imposed sanctions on five Iranians who allegedly provided Houthi rebels with expertise and weaponry to target Saudi Arabia. (Arab News 23/05)
Ongoing Threat of Violence/Terrorism at Sea off the Coast of Yemen
Yemen's civil war has created an environment mirroring Somalia's lawlessness. The ongoing conflict in Yemen demonstrates how poor security on land has led to violence spilling out into the maritime domain as Houthi rebels continue to control a large amount of Yemen's red sea coastline.
On the 3rd April 2018, Houthi rebels conducted a missile attack near Hudaydah against the Abqaiq, a Saudi tanker. There is no indication that the Houthi rebels intend to attack non-Saudi vessels, however Hudaydah port continues to be used as a launchpad for Houthi rebel attacks and arms smuggling. Attacks of this nature by the Houthi rebels in the maritime and land domain, are often conducted in response to the Saudi coalition actions in the Yemeni conflict.
Ongoing reporting indicates that coalition forces are continuing to make advances towards Hudaydah which is currently under Houthi rebel control. As the advances towards Hudaydah continue this in turn increases the likelihood of Houthi rebels responding with further attacks against Saudi targets on land and sea, increasing the risk to shipping in the region. In the past Houthi rebels have repeatedly threatened to attack merchant vessels in the region should coalition forces attempt to re-take Hudaydah port.
The continued proliferation of weapons in Yemen increases the possibility that rebel and other groups may seek to conduct an attack against shipping using WBIED's.
Somalia Update
This Week
Piracy on the rise off Somalia: The number of piracy incidents doubled off the coast of East Africa in 2017 compared to 2016. Somali criminal networks were still capable of sophisticated attacks. Further to this the conflict in Yemen is also threatening shipping near the Horn of Africa. Piracy off the coast of Somalia has dropped significantly in recent years, in part because of extensive international military patrols as well as support for local fishing communities. (BBC News 22/05)
Tropical cyclone kills dozens in Somaliland: A tropical cyclone has hit the Horn of Africa killing more than 50 people in Somaliland, wiping out hundreds of farms and livestock. An estimated 669,000 people have been affected. The tropical cyclone occurred on Saturday in north-western Somaliland and Djibouti then spreading over to the Gulf of Aden. (UNOCHA)
Al Shabaab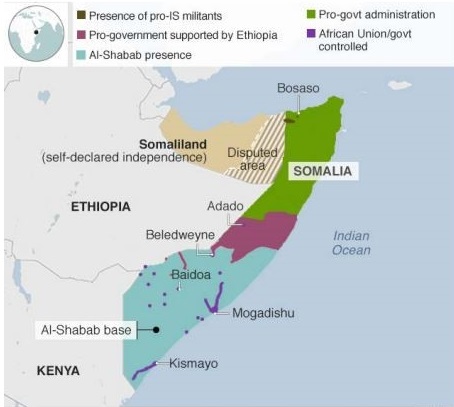 Al Shabaab continue to be increasingly active in Somalia. The militant group has been battling the Somali Federal Government (SFG) in an effort to govern Somalia. Since 2013, al Shabaab pledged allegiance to al-Qaeda attracting the United States to execute raids and airstrikes against the group. However increased US airstrikes have not enabled African Union Mission (AMISOM) and Somali security forces to gain enough momentum against the terrorist group as al Shabaab has yet to have suffered any great loss of territory or significant casualties from the airstrikes. Al Shabaab continues to maintain strongholds in southern and central Somalia and continue to carry out attacks against military and civilian targets. Somalia is a country whereby tribal loyalties are stronger than national ties which have hindered efforts to strengthen unity. Terrorist groups and clan divisions mean that the SFG and Somali forces lack legitimacy outside of Mogadishu. Further to this, al Shabaab further exemplifies the issue of famine, terrorism and corruption making the prospect of stability in Somalia in the near future bleak. Al Shabaab is likely to maintain its present operational tempo in 2018 which leaves huge challenges facing Mogadishu meaning international efforts to stabilise the country will continue for years to come.
Piracy
In 2017 between March and May, five vessels were hijacked in Somali waters, whilst this was reported by many to be a resurgence of Somali piracy, it can be assessed as more likely to be a result of a permissive environment during the inter-monsoon period allowing skiffs and PAGS to operate with ease. Until the deep rooted issue of piracy in Somalia are resolved, piracy will continue to be a threat. 2017 saw the worst drought Somalia has seen in 40 years, this coupled with the struggling government and extreme militant violence has brought 6.7 million people into crisis. Pirate financiers capitalise on the chaos offering opportunities to local people. Somalia has the second-longest coastline in Africa which is largely unregulated. Pirate groups are known to operate in the coastal regions of Puntland namely Eyl and further south in Galmudug namely Hobyo. It is needless to say, as instability in Somalia continues, it will serve as a permissive environment for piracy operations with an ongoing threat to shipping in the region.