Indian Ocean HRA Overview
Continued reported incidents reflect that the HRA remains a threat in regards to piracy activity in the region. Recent efforts to improve the security environment will reduce the impact of Somali piracy, however, continuing deterioration of onshore conditions in Somalia and Yemen such as famine, terrorist groups, a weak central government and poor governance of coastal areas continue to influence piracy in the region. Pirate financiers capitalise on the chaos offering opportunities to local people. Piracy groups onshore Somalia still bear the motivation to try and carry out attacks and still with capability to target merchant vessels. Increasingly, vessels in the HRA are subjected to incidents that appear to be co-ordinated small boat piracy approaches however they choose not to ultimately attack. These incidents are then difficult to classify as attempted piracy or simply as regional patterns of life in the area. However, as seen in recent months there have been numerous attacks and attempted boarding's ranging from incidents in the Somali Basin, Gulf of Oman, Gulf of Aden and the Southern Red Sea. The increased presence of naval patrols and armed security on board vessels act as a deterrent to the threat of piracy, however those vessels transiting in the area without the presence of armed security remain a significant risk.
Reported Incidents HRA
No incidents to report (UKMTO)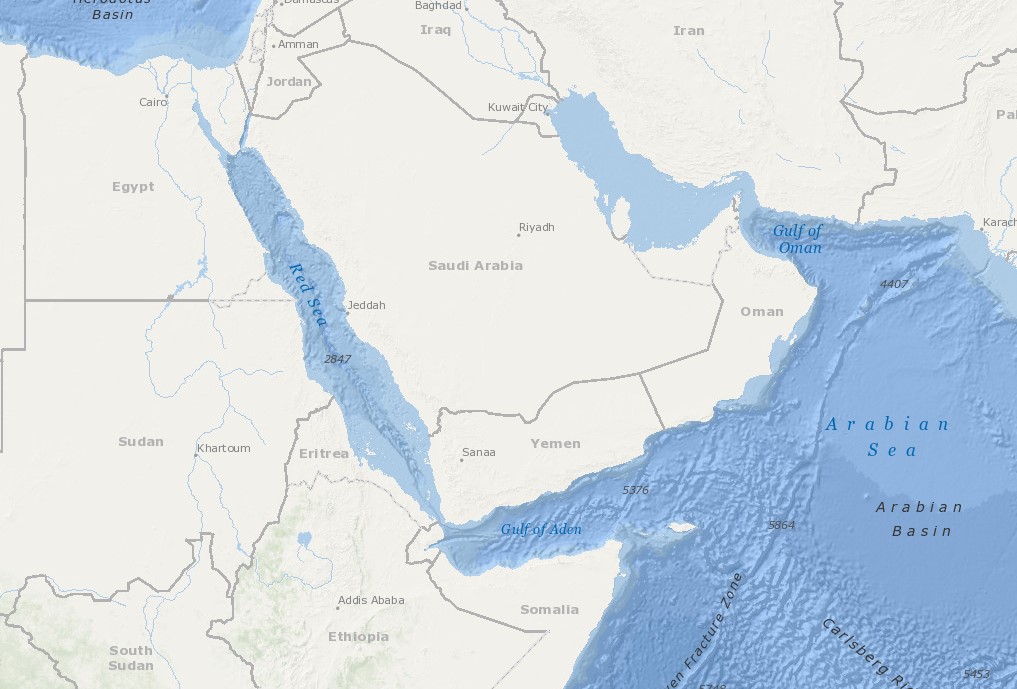 Yemen Update
The Houthi rebels still hold a large part of Yemeni territory with no political solution in sight. International attention in Yemen continues to call for an end to the ongoing conflict however the prospects of peace are bleak. The continued presence of al-Qaeda and the growing southern secessionist movement further increases instability and conflict in Yemen.
This Week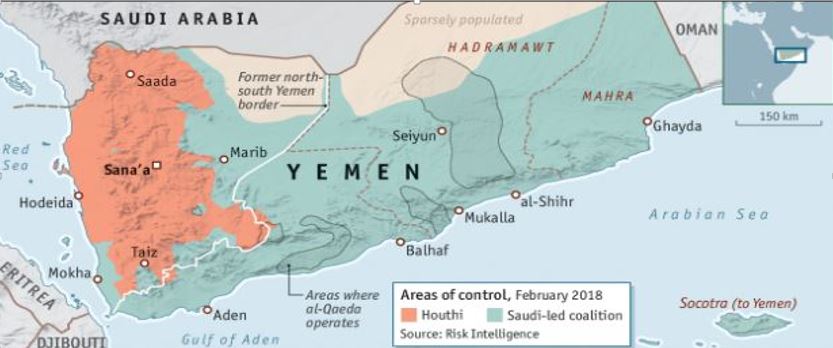 (Economist – Risk Intelligence)
UN calls for Yemen ports to remain open to aid: The UN Security Council has called for ports in Yemen to remain open to allow commercial and humanitarian imports to reach people in need of them. The UN has estimated that 22.2 million people were now in need of humanitarian assistance in Yemen and stressed that ports including Hudaydah and Saleef should remain operational despite the ongoing crisis caused by the civil war. A presidential statement said that 'The security council calls for the full and sustained opening of all Yemen's ports and stresses the importance of keeping these functioning and open to all commercial and humanitarian imports including food, fuel and medical imports.' In addition, it is also noted the recent delivery of four World Food Programme cranes to Hudaydah port, as well as plans to install four additional cranes in Mokha, Aden and Mukalla port.
Detained African migrants stuck in Yemeni port city of Aden: The refugees and migrants were caught by Yemeni authorities and detained in the port city of Aden awaiting deportation. Yemen has long been a transit point for migrants and refugees from East Africa. Hundreds drown each year making the journey and those who make it to Yemen face multiple risks, including death by assault, extortion and abuse by criminal networks as well as the hazards from the war in Yemen itself.
Ongoing Threat of Violence/Terrorism at Sea off the Coast of Yemen
Yemen's civil war has created an environment mirroring Somalia's lawlessness. The ongoing conflict in Yemen demonstrates how poor security on land has led to violence spilling out into the maritime domain. Houthi rebels continue to control a large amount of Yemen's red sea coastline.
Suspicious approaches continue in the Bab el Mandeb Strait and Gulf of Aden.
In relation to coalition forces advancing towards the Red Sea port city of Hudaydah, currently under Houthi rebel control, increases the risk to shipping in the region. In the past Houthi rebels have repeatedly threatened to attack merchant vessels in the region should coalition forces attempt to re-take Hudaydah port. If coalition forces seized Hudaydah it could be argued this would be a turning point in the civil war as the Houthi rebels would lose their main source of finance through the port in which illegal arms are smuggled.
Unconfirmed reports surfaced on the 7th January 2018 stating that the Saudi coalition had destroyed at least one Houthi vessel near Hudaydah port after an alleged attack occurred against a Saudi oil tanker. The vessel was reported to be loaded with explosives and controlled remotely.
The threat of terrorism at sea off the coast of Yemen remains by rebel groups and terrorist organisations such as AQAP remains. Such is highlighted by attacks against the LNG Tanker Galacia Spirit in October 2016 and the MT Muskie a product tanker in May 2017. Both involved the use of explosive laden skiffs, as an attempt to cause major devastation in the critical international shipping passage of the Bab-el-Mandeb.
It continues to be a persistent threat that merchant vessels may be the subject of a miscalculated attack or as has been suggested recently, possibly threats of a calculated attack.
Somalia Update
This Week
Berbera development dispute – instability risk: A dispute over plans to develop Somaliland's Port of Berbera risks destabilising then Horn of Africa region the Somaliland foreign affairs minister has claimed. The Federal Government of Somalia declared earlier this month that the Port of Berbera investment deal between DP World, Somaliland and Ethiopia as 'non-existent, null and void'. Somalia does not recognise Somaliland's 1991 declaration of autonomy.
At least 14 Killed in Mogadishu car bombing: At least 14 people killed and several wounded on Thursday 22nd March when a car bomb exploded outside the Weheliye hotel in Mogadishu. Al Shabaab claimed responsibility for the attack claiming it had targeting a gathering of government officials, army and intelligence officers.
Grenade attack kills at least 3 in Bosaso: at least 3 people were killed in a grenade attack in Bosaso, Puntland. No group as claimed responsibility so far. Bosaso has had several attacks in recent months conducted by the al Shabaab militant group.
Al Shabaab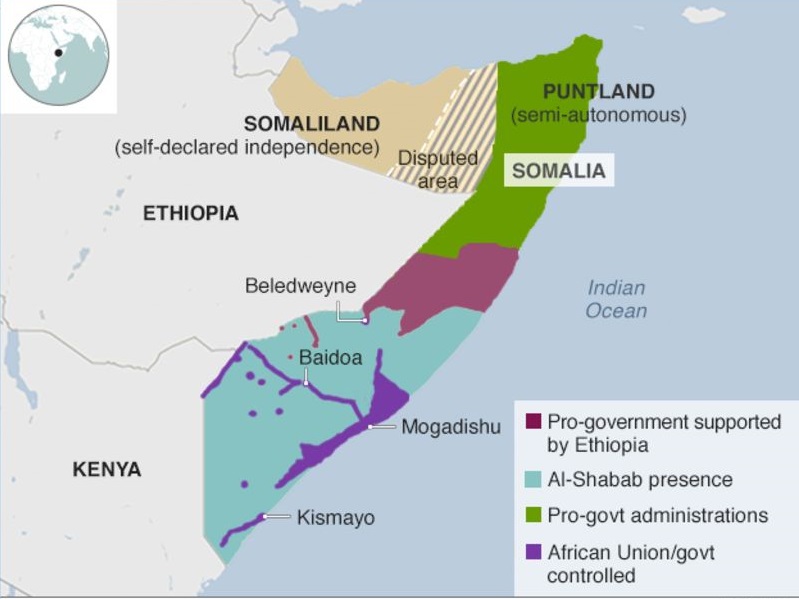 Al Shabaab has been increasingly active in Somalia in recent months. The militant group has been battling the Somali Federal Government (SFG) in an effort to govern Somalia. Since 2013, al Shabaab pledged allegiance to al-Qaeda attracting the United States to execute raids and airstrikes against the group. However increased US airstrikes have not enabled African Union Mission (AMISOM) and Somali security forces to gain enough momentum against the terrorist group, al Shabaab has not suffered any great loss of territory or significant casualties from the airstrikes. Al Shabaab continues to maintain strongholds in southern and central Somalia and continue to carry out attacks against military and civilian targets. Somalia is a country whereby tribal loyalties are stronger than national ties. The SFG and Somali forces lack legitimacy outside of Mogadishu. Further to this, al Shabaab further exemplifies the issue of famine, terrorism and corruption making the prospect of stability in Somalia in the near future bleak. Al Shabaab is likely to maintain its present operational tempo in 2018 and further expand its territory in central and southern Somalia.
Piracy
In 2017 between March and May, five vessels were hijacked in Somali waters, whilst this was reported by many to be a resurgence of Somali piracy, it can be assessed as more likely to be a result of a permissive environment during the inter-monsoon period allowing skiffs and PAGS to operate with ease. Until the deep rooted issue of piracy in Somalia are resolved, piracy will continue to be a threat. 2017 saw the worst drought Somalia has seen in 40 years, this coupled with the struggling government and extreme militant violence has brought 6.7 million people into crisis. Pirate financiers capitalise on the chaos offering opportunities to local people. Pirate groups are known to operate in the coastal regions of Puntland, namely Eyl and further south in the Galmudug region, namely Hobyo. It is needless to say, as the increased instability in Somalia continues, it will serve as a permissive environment for piracy operations with an ongoing threat to shipping in the region.