INCIDENT UPDATE – MISSILE ATTACK

Date: 04/03/2021 0545 UTC

Position: 216270N 392334E Jeddah KSA

Location: JEDDAH, KINGDOM OF SAUDI ARABIA (KSA)
Incident details: Yemen Houthi rebels said they fired a missile at an oil facility owned by Saudi Aramco in the Red Sea port of Jeddah. There has been no immediate confirmation from Saudi authorities.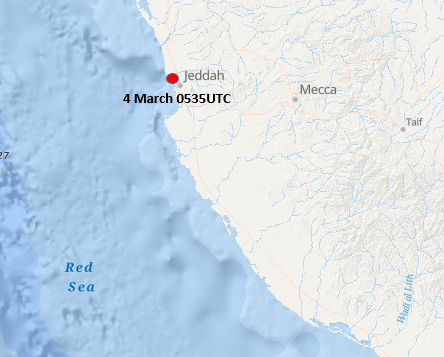 Intelligence Update: If confirmed, this incident would be the latest in series of Houthi strikes on the Saudi Kingdom.  It is similar to an event which took place on the 24 Nov 2020 at the North Jeddah Bulk Oil facility which is believed to be the same location of the today's event.  Although today's incident does not pose a direct maritime threat in its own right, when combined with the attack on MT BW RHINE in Jeddah port on 15 Dec 20 it does highlight the fragile nature of the security situation in Saudi Red Sea facilities.  Commercial shipping is advised to exercise caution when operating in the area.