IRANIAN TANKER SIBITI REPORTEDLY HIT IN RED SEA

Date: 11 Oct 2019

Position:  21°4'34" N 38°20'46" E

Location: Gulf of Aden
Incident details:
It is reported that the Iranian oil tanker SABITI has been hit by two explosions, reportedly 'missiles', off the coast of Jeddah, Saudi Arabia. The two explosions, at 0500 and 0520 local time have badly damaged two tanks on board the vessel, causing oil to leak into the Red Sea. This recent incident comes during heightened tensions across the Middle East which have seen a series of attacks against tankers belonging to Saudi Arabia and its allies. It also comes after 18 drones and seven cruise missiles hit a major oil field and processing facility in Saudi Arabia, which Riyadh blamed on Iran. Saudi Arabia considered a military response to the strike, but has taken no official action.
The Nour news agency, which is close to the Iranian Revolutionary Guard Corps, said the crew of the SABITI was safe and had stopped the leak. The state-owned National Iranian Tanker Company said that contrary to reports, 'there is no fire aboard the ship and the ship is completely stable'. Iran has not said who it believes was responsible for the attack on the SABITI.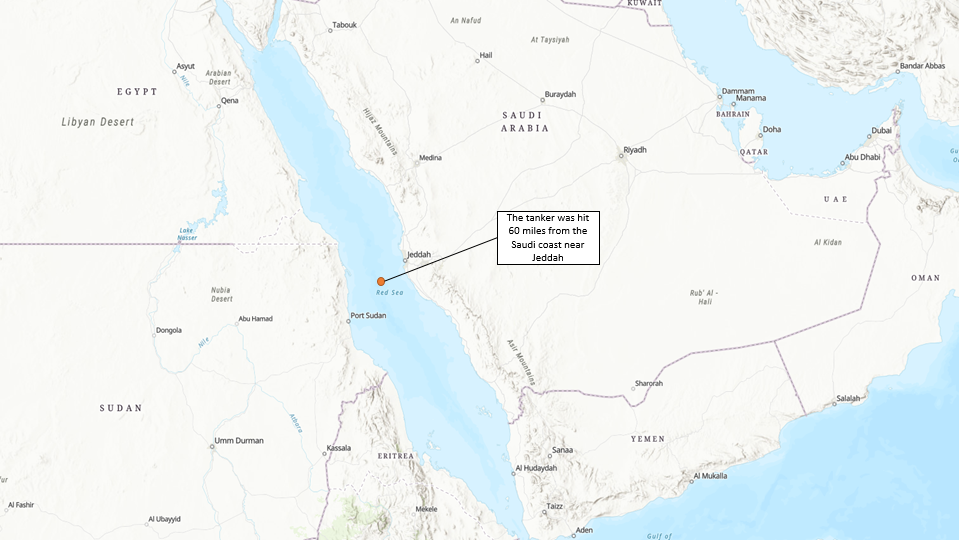 Before Friday the SABITI had not activated its transmitter for 57 days, when it was in the port of Bandar Abbas, but it suddenly began broadcasting its location again shortly after the blasts were reported. Data shows the tanker is fully laden with 1million barrels of oil and is now heading back to the Persian Gulf with a destination of Larak, an island in the Strait of Hormuz. It is unclear what the tanker's initial destination was. Iranian vessels often turn off their trackers to avoid US sanctions on oil exports.
This incident has not been verified and the only information we have currently is from the Iranian press. There was also initial confusion over which vessel had been hit, with the first reports suggesting it was the SINOPA which was sailing in parallel to the SABITI. It should also be noted that, according to AIS data, the SABITI is currently heading south at a very healthy speed of 10.2kn.