Gulf Of Guinea Overview
October has seen continued piracy activity across all areas. West Africa continues to be the most active area, closely followed by South East Asia. During the course of the reporting period there have been eleven reported incidents in West Africa, with three incidents of hijacking, seven reported attacks and one report of suspicious activity.
The first and second instances of hijacking in West Africa resulted from sustained attacks by pirates off the Republic of Congo. The attacks carried out by armed pirates resulted in the theft of goods and the taking of hostages. The third incident of hijacking this month was reported SW off Bonny, Nigeria and resulted in eleven crew being kidnapped. Across the West Africa region pirate activity remains high off Nigeria, with an increase in activity off the Republic of Congo. Most of the reported incidents involved pirates boarding vessels, but activity over this period, as well as preceding periods, indicates that pirates are probing then selecting targets.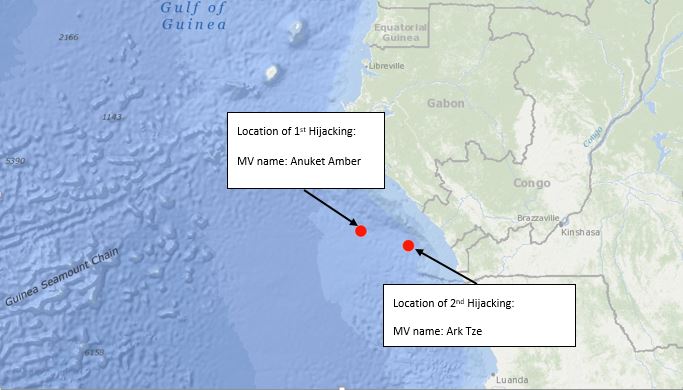 Report Details
Hijacking
Date – Time: 29/10/2018 14:24:00
Details: MV HIJACKED at 1424 UTC in position: 04:42S – 010:04E, Pointe Noire, Rep Congo. Vessel
Course 312 at Speed 11knts (Vessel first attacked at 1250 UTC with another MV). Reported, 29 Oct.
Hijacking
Date – Time: 29/10/2018 03:30:00
MV Name: Ark Tze
Details: A Singapore-flagged offshore supply vessel was boarded and HIJACKED by armed pirates at
0330 UTC in position 04:57.56S – 010:43.11E, around 68nm West of Pointe Noire, Republic of the
All crew taken hostage and made to lie on deck while the pirates, ransacked and stole crew
and ship's properties. The pirates kidnapped four crew and escaped. The remaining crew sailed the
vessel to a safe port. One crew injured. Bridge equipment reported damaged during the attack.
Reported (IMB) 29 Oct.
Description of events
In an unusual double attack, pirates boarded and took command of the bunkering tanker Anuket Amber at a position 100 nautical miles off Pointe-Noire, Republic of Congo. The same day, the aggressors also boarded an OSV, took four hostages and transferred them to the Anuket Amber. According to an initial report published by the IMB ICC, a group of pirates in a speed boat chased and fired upon an LPG tanker that was carrying out underway ship-to-ship bunkering operations with the Anuket Amber.
The two vessels stopped the bunkering transfer and cast off. The LPG carrier increased her speed and the tanker made evasive manoeuvres. The ICC's report indicated that both vessels escaped and that all crew were safe. However, on Thursday, the Indonesian Ministry of Foreign Affairs said that pirates had abducted three Indonesian citizens and one Ukrainian national from a different vessel – the OSV Ark Tze – and transferred them to the Anuket Amber, which had been hijacked by the same group.
As of Thursday evening, the Ark Tze was anchored at Pointe-Noire. Her 11 remaining crew members survived the attack, and nine – all Indonesian nationals – will be repatriated at their request.
Assessment and Analysis
West Africa is currently the most active area for piracy operations, with a noticeable increase in activity of the Republic of Congo coast. Continued pirate activity was also seen off Nigeria, most notably a hijacking in which eleven crew members were taken hostage.
All waters in and off Nigeria and in the wider Gulf of Guinea should be seen as dangerous and vessels should be vigilant.
Vessels should avoid slow steaming while underway and minimise time spent in anchorages.
They are also advised to take 'hardening measures' to make boarding more difficult.
Masters are advised to ensure that a vigilant watch system is employed at all times when visiting West Africa
maritime regions, even in areas exceeding 250 nautical miles off-shore. All vessels should be identified before being
allowed to approach.
Attacks in the Gulf of Guinea are centred predominantly in Nigerian territorial waters, especially those waters south of Port Harcourt and Bonny Island in the Niger Delta, although recent evidence suggests the Republic of Congo's waters are equally dangerous.
Incidents are not restricted to coastal waters and can occur 200 nautical miles out to sea.
In general pirate activity falls into three categories; armed robbery, which tends to be opportunistic; cargo theft, typically from product and chemical tankers; and kidnapping.
Pirates however appear to see kidnap for ransom as a simpler way of raising illegal funds.
The perpetrators behind the acts of piracy are often armed and violent.
Attacks typically involve assailants coming alongside vessels in small boats and then using ladders, ropes and hooks to clamber on-board.
The greatest risks of piracy are at night. Vessels are advised to minimise time spent in anchorages and to avoid slow steaming while underway.