Indian Ocean HRA Overview
Continued reported incidents reflect that the HRA remains a threat in regards to piracy activity in the region. Recent efforts to improve the security environment will reduce the impact of Somali piracy. However, factors onshore in Somalia continue to influence piracy in the region such as the ongoing famine and instability. Piracy groups in Somalia still bear the motivation to try and carry out attacks and still with some capability to target merchant vessels. Increasingly, vessels in the High Risk Area are subjected to incidents that appear to be co-ordinated small boat piracy approaches however they choose not to ultimately attack. These incidents are then difficult to classify as attempted piracy or regional patterns of life. However, in recent weeks there have been numerous attacks and attempted boarding's ranging from incidents in the Somali basin, Gulf of Oman and Gulf of Aden The increased presence of naval patrols and armed security on board vessels act as a deterrent to the threat of piracy, however those vessels transiting in the area without the presence of armed security remain a significant risk.
Reported Incidents HRA
One incident to report (UKMTO)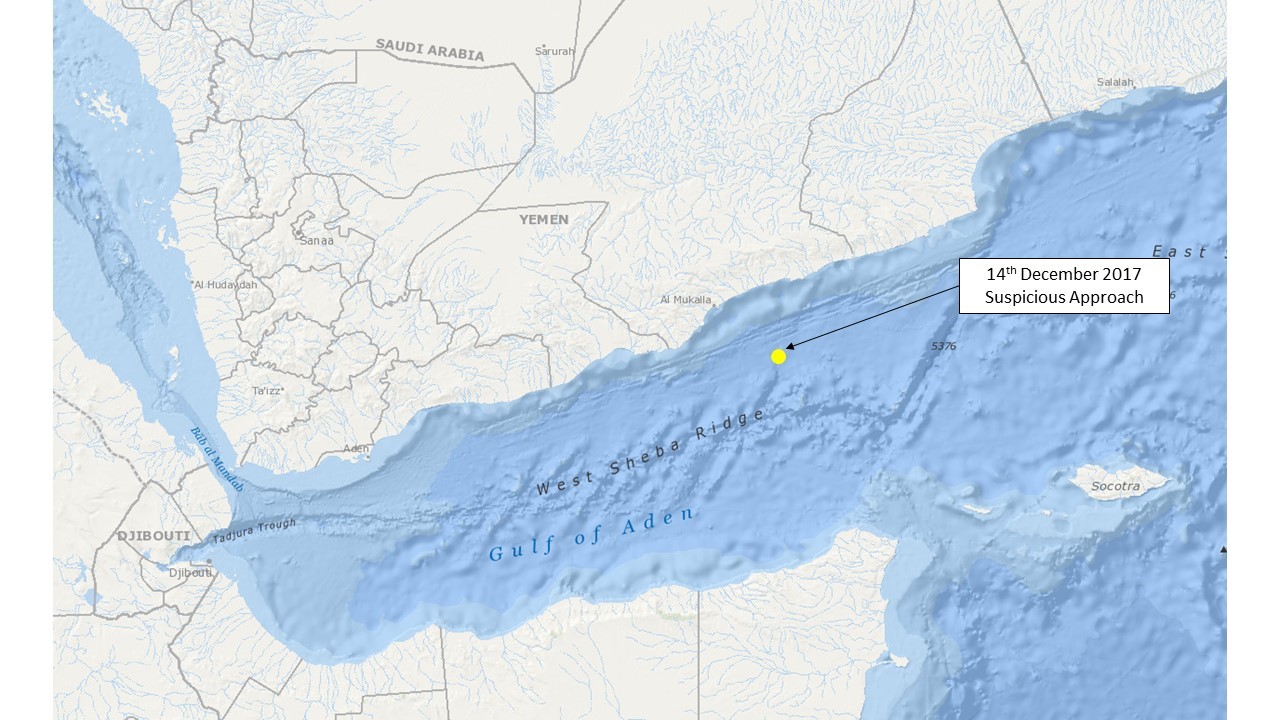 Incident details
On the 14th December 2017 between 0715Z and 0900Z an MV in posn 13 56.50N and 049 51.50E (60nm SE of Mukallah) was approached by 3 skiffs each with 3-4 POB. The skiffs last sighted in posn 14 00.00N -050 06.15E. MV is safe.
Intelligence comment
The incident happened in close proximity to Mukalla and is likely to be linked to the conflict in Yemen or regional patterns of life rather than an attempted piracy incident, however with little information this cannot be confirmed.
Mukalla is located nearby to al Qaeda strongholds. Al Qaeda continues to hold a significant presence in Yemen, controlling land in the south, close to the Gulf of Aden. The group have capitalised on the chaos in the country in order to gain a foothold. It is assessed that the death of former President Saleh may contribute to strengthening Al Qaeda's presence in Yemen.
Yemen Update
US: Iran supplied Yemen rebels with ballistic missile
The US permanent representative to the UN, Nikki Haley, has accused Iran of supplying Yemen's rebel Houthi movement with missiles to attack Saudi Arabia. Iran denies arming the Houthi movement. Iran said the claims were "irresponsible, provocative and destructive". It was stated that the missile had the potential to kill hundreds of civilians and that international peace and security depends on us working together against Iranian aggression. Iran's mission to the UN said the evidence was fabricated to serve a US agenda.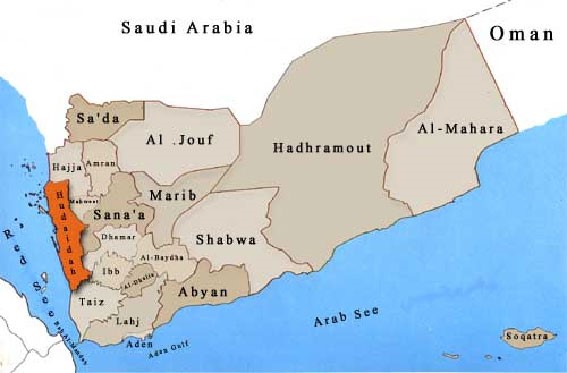 Yemeni government forces enter the Al Hudaydah Governorate on the Red Sea coast
The looming battle for the key port of Hodeidah threatens vital infrastructure and further civilian casualties. Fighting along the Red Sea coast is reported to be approaching densely populated urban areas with the Saudi-backed coalition forces fighting around 75 miles south of Hodeidah. A potential new ground offensive by coalition-backed forces on the Red Sea port city of Hodeidah furthers the risk of violence spilling out into the maritime domain.
A large scale operation in the port city of Hodeidah may be seen as catastrophic and could see the port completely destroyed. Hodeidah imports of 80% of Yemen's staple food and fuel. Restrictions on imports have eased as some aid has been allowed in. However very few ships have been able to dock at Hodeidah. The World Food Programme stated this week that if commercial vessels didn't get in soon the humanitarian crisis would be of a much larger magnitude than is currently faced and beyond the control of the humanitarian community.
Reports on the 7th December stated that Yemeni government forces had entered the Al Hudaydah Governorate on the Red Sea for the first time since the war began. Yemeni government forces have reported to have taken full control of the coastal city of al-Khawkhah in the Al Hudaydah Governorate, 75 miles south of Hudaydah. Further reports highlighted that Houthi rebels have been heavily deployed in Hudaydah, anticipating a potential new ground offensive by coalition-backed forces on the Red Sea port city. It can be said therefore, with the potential escalation of violence on the Red Sea coastline, there is an increased risk of violence spilling out into the maritime domain, with the main protagonists being that of the Houthi rebels.
Ongoing Threat of Violence/Terrorism at Sea off the Coast of Yemen
Yemen's civil war has created an environment mirroring Somalia's lawlessness. The ongoing conflict in Yemen demonstrates how poor security on land has led to violence spilling out into the maritime domain. Houthi rebels continue to control a large amount of Yemen's red sea coastline and continue to attack coalition warships with methods such as missiles and explosives.
The threat of terrorism at sea off the coast of Yemen remains by rebel groups and terrorist organisations such as AQAP. Such is highlighted by attacks against the LNG Tanker Galacia Spirit in October 2016 and the MT Muskie a product tanker in May 2017. Both involved the use of explosive laden skiffs, as an attempt to cause major devastation in the critical international shipping passage of the Bab-el-Mandeb. It must not be ruled out that similar attacks may be attempted in the future. In the past couple months, there have been reports of explosive laden boat attacks targeting coalition vessels in Mokha port. On the 12th and 16th of August, Houthi rebels attempted targeting coalition vessels at Mokha port with explosive-laden boats. With both incidents, Saudi backed Yemeni forces destroyed the boats before it reached the port area. Mokha port continues to be a target for maritime violence as it was suggested to be used as the main port instead of the port of Hudaydah which is currently under Houthi rebel control.
Further to this, Houthi rebels have been reported to have deployed sea mines in the entrance to ports such as Mokha, if the mines are not removed by the coalition there is a danger of them breaking free and drifting into shipping lanes. It remains a persistent threat that merchant vessels may be the subject of a miscalculated attack or as has been suggested recently, possibly threats of a calculated attack.
Somalia Update
Somalia suicide bomber kills police at Mogadishu academy
14th Dec: A suicide bomber has killed at least 18 police officers during a parade at a training centre in the Somali capital, Mogadishu. At least 15 other people were wounded. The bomber, disguised as a policeman, blew himself up at the General Kaahiye Police Academy. The militant Islamist group al-Shabaab claimed the attack.
US suspends aid to Somalia's army over corruption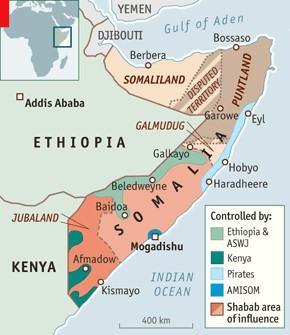 14th Dec: It has been reported this week that the US is suspending food and fuel aid for most of Somalia's armed forces over corruption concerns. The announcement comes at a critical time for Somalia as African Union (AU) peacekeepers start to withdraw this month. The AU force is scheduled to leave by 2020 with the first 1,000 soldiers leaving by the end of 2017.
AU troops arrived in Mogadishu a decade ago to fight al Shabaab militants and Somali forces are supposed to eventually take over their duties. But the US, which also funds the 22,000-strong peacekeeping force, has reportedly grown frustrated that successive governments have failed to build a viable national army. Diplomats worry that without strong Somali forces, al Shabaab could be reinvigorated, destabilise the region and offer a safe haven to other al Qaeda-linked militants or Islamic State fighters.
Al Shabaab
Al Shabaab has been increasingly active in Somalia in recent months. The militant group has been battling the Somali Federal Government (SFG) in an effort to govern Somalia. Since 2013, al Shabaab pledged allegiance to al-Qaeda attracting the United States to execute raids and airstrikes against the group. However increased US airstrikes have not enabled African Union Mission (AMISOM) and Somali security forces to gain any momentum against the terrorist group, al Shabaab has not suffered any great loss of territory or significant casualties from the airstrikes. Al Shabaab continues to maintain strongholds in southern and central Somalia and continue to carry out attacks including suicide bombings, attacks on hotels and restaurants as well as military bases for African Union troops and the SNA. Al Shabaab's aim is to destabilize Mogadishu and weaken the SFG as demonstrated in the October 14th attack which killed over 500 people. These attacks are aimed to undermine the SFG's legitimacy. Further to this, there attacks are further exemplifying the issue of famine, terrorism and corruption making the prospect of stability in Somalia in the near future, bleak. Al Shabaab is likely to maintain its present operational tempo and further expand its territory in central and southern Somalia.
Piracy activity
2017 saw the worst drought Somalia has seen in 40 years, this coupled with the struggling government and extreme militant violence has brought 6.7 million people into crisis. Pirate financiers capitalise on the chaos offering opportunities to local people but also diversifying in other criminal activities such as human smuggling. Pirate groups have seen to be active in recent weeks in various different locations such as the Somali basin, Gulf of Aden and Gulf of Oman. It is needless to say, as the increased instability in Somalia continues, it will serve as a permissive environment for piracy operations with an ongoing threat to shipping in the region.