Overview
Continued reported incidents reflect that the HRA remains a threat in regards to piracy activity in the region. Recent efforts to improve the security environment will reduce the impact of Somali piracy. However, factors onshore in Somalia continue to influence piracy in the region such as the ongoing famine and instability. Piracy groups in Somalia still bear the motivation to try and carry out attacks and still with some capability to target merchant vessels. Increasingly, vessels in the High Risk Area are subjected to incidents that appear to be co-ordinated small boat piracy approaches however they choose not to ultimately attack. These incidents are then difficult to classify as attempted piracy or regional patterns of life. Whilst there are concerns of complacency, it is perhaps understandable when statistics in the region are uncertain. The increased presence of naval patrols and armed security on board vessels act as a deterrent to the threat of piracy, however those vessels transiting in the area without the presence of armed security remain a significant risk.
Reported Incidents HRA
Attack: At 1909 UTC on 17th November, a master reported being attacked in position 0156S 04757E (363NMs of the Somali Coast) by one skiff with 4 people on board. They tried to board the vessel but failed due to razor wire placed by the merchant vessel along the gunnel. After failed boarding they fired 2 RPG rounds at the vessel but missed. The skiff then withdrew. The vessel is safe. Vessels are advised to keep well clear of this position and to exercise extreme caution if in vicinity (Source: MSCHOA).
Attack: At 0555 UTC on 18th November 2017, an FV in position 0156.0S 04923.0E (380NMs off the Somali Coast) reported that one skiff with 4 POB approached the FV to 1000 yards. AST fired warning shots. It is reported that an attempted boarding failed after which weapons were discharged at the ship. Military sources have assessed that a potential Pirate Action Group (PAG) are operating in the area centred on 0155.9S 04756.8E. (Source: UKMTO).
Suspicious Approach: At 1903 UTC on the 19th November 2017 an MV in position 1404N 05147E (near IRTC point B), reports sighting a skiff with a ladder, which approached to 1nm. MV increased speed and is now safe. (Source: UKMTO).
Attack: On the 21st November 2017 at 1940 UTC MV reported being under attack by 4 armed skiffs in posn 1408.7N 04857.3E (Near Mukalla Port). Vessels transiting in the area are advised to exercise extreme caution. (Source: UKMTO).
Attack – Attempted Boarding: On 22nd November 2017 at 2030 UTC.  An MV in position 2451N 05833E (100 miles east of Fujairah), was approached by five skiffs which carried out dangerous manoeuvers in close proximity to the vessel. (Source: UKMTO) Later reports suggested that an attempted boarding had failed and weapons were discharged at the vessel. (Source: UKMTO).
Intelligence Comments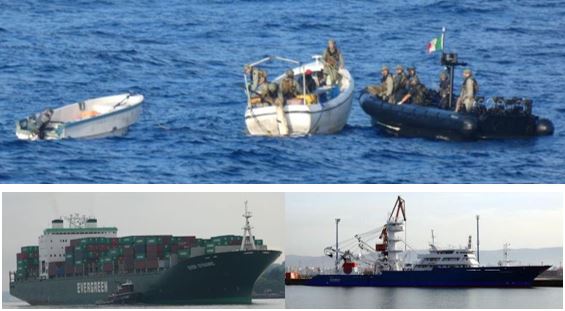 Attacks 17th/18th November Somali Basin: The two incidents follow on from early reports on the 17th November of a suspicious approach by a single skiff with four POB. The incidents reportedly took place over a 24 hour period on the 17th against a container ship and 18th against a fishing vessel in the Southern Somali Basin (as pictured below). The incidents reported on the 17th and 18th November are concerning in that the personnel from the skiff made an attempt to embark the vessels but were deterred by defensive measures. The attack on the 17th with RPGs demonstrates a clear intent to board the merchant vessel with a view to hijacking. The attack on a fishing vessel was likely to be an attempt to take control of a 'mothership' enhancing the pirates' longevity and capability in the areas. On the 19th November 2017 open source media reported that EU NAVFOR Somalia's Flagship, the Italian vessel ITS Virginio Fasan apprehended six suspected pirates and seized their vessels (motor whaler and skiff as pictured above). The mothership and vessel apprehended is believed but not confirmed to be connected to the incidents on the 17th/18th November.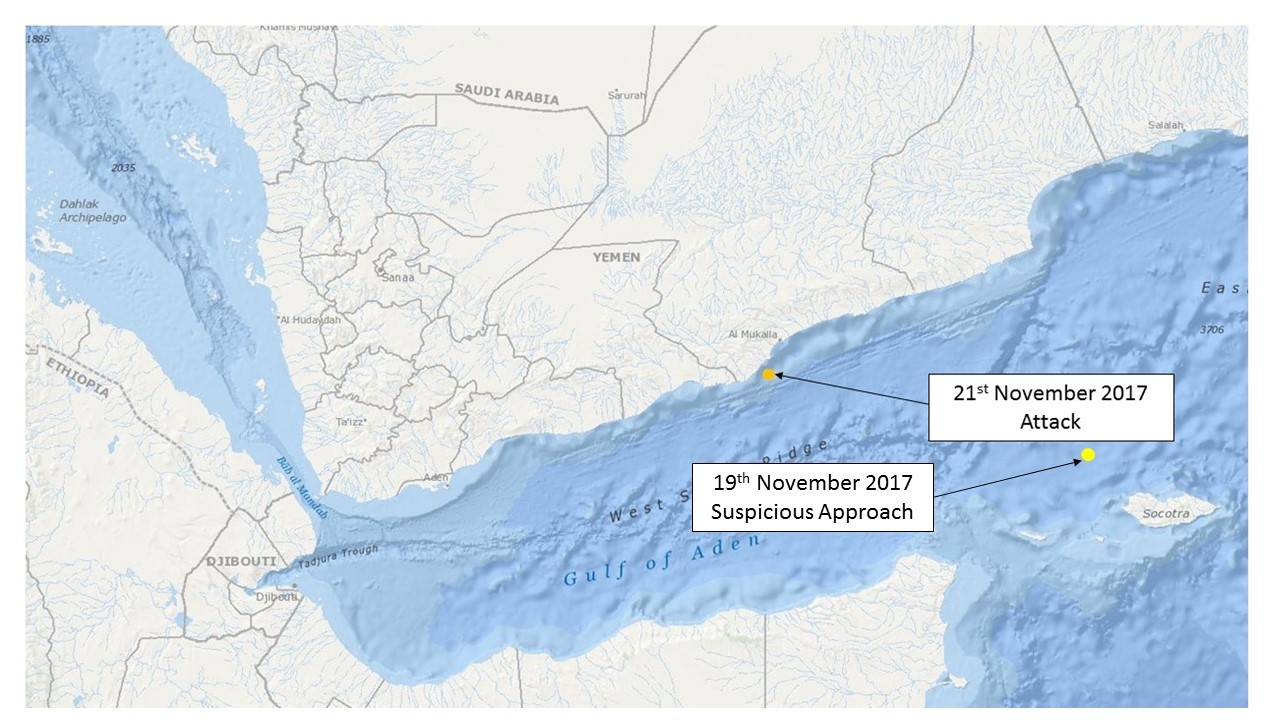 Suspicious Approach (IRTC point B): Reports of suspicious activity continue in the Gulf of Aden and Bab el Mandeb. A common tactic adopted by Somali pirates is a soft approach – a probe in order to assess the ship's counter measures (armed guards etc.), in this incident the skiffs approached to 1nm. In this incident ladders were sighted and given the recent surge of incidents this could be attributable to an attempted piracy.
Attack (nearby to Mukalla): Given the location of the incident, this attack may be attributable to the ongoing conflict in Yemen rather than piracy. Regions nearby to Mukalla still have an Al Qaeda presence coupled with ongoing trafficking/smuggling and regional patterns of life such as fishing.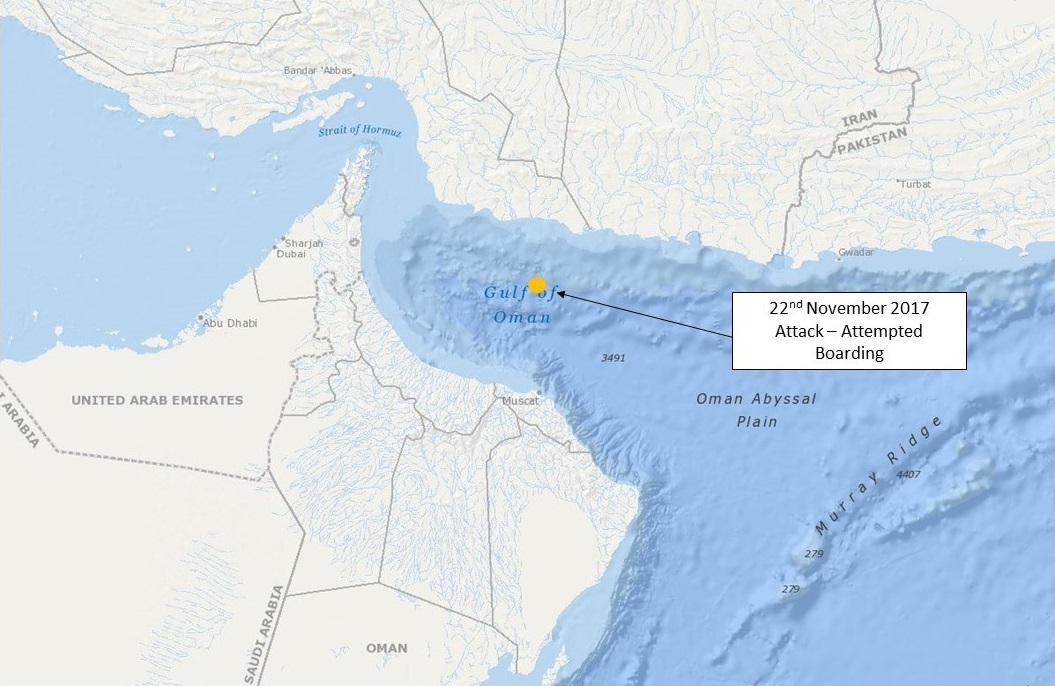 Attack – Attempted Boarding Gulf of Oman: A potential attempted piracy incident in this area would be considered few and far between but by no means unique. There have been 2 incidents reported in the Gulf of Oman this year, however they were later assessed as regional patterns of life mistaken for attempted piracy. Before this however, the last known attack was against the TORM KRISTINA in 2012. Somali pirates have historically been able to operate in the Gulf of Oman using a tactic known as 'leap frogging' whereby they hijack numerous different dhows to use as motherships. If this incident is confirmed to relate to Somali piracy, it will see a worrying reversal back into an old trend and would highlight the capability of Somali pirates able to operate up to 1250 nm from the Somali bases.
Yemen Update
Pro-government forces backed by a Saudi-led coalition remain in conflict with the rebel Houthis and their ally, former president, Ali Abdullah Saleh. The conflict shows no indication of being resolved in the near future. In addition to this, the rising southern secessionist sentiment is likely to provide the grounds for further conflict In Yemen.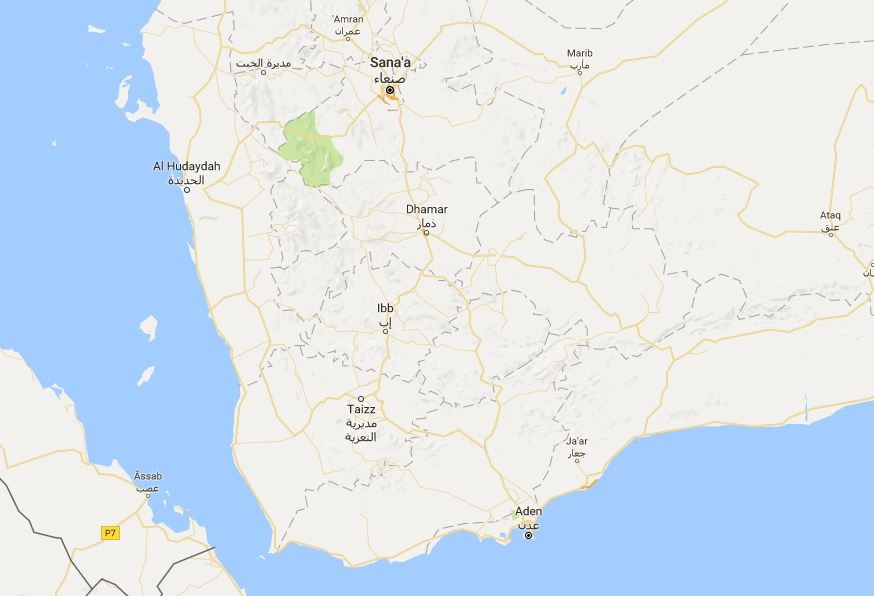 Yemen war: Saudi coalition to let aid reach the rebel held port of Hodeidah
The coalition tightened its blockade of the country two weeks ago in response to a rebel missile attack on Riyadh.
Government controlled air and seaports were allowed to reopen last week. Yemen is reliant on imports for more than 80% of its food and after urgent UN appeals the coalition announced on Wednesday to re-open the rebel held port of Hodeidah to receive urgent humanitarian and relief materials. Sanaa airport was also reopened to UN aircraft designated for humanitarian and relief efforts.
Al Qaeda forced from Mahfad district
UAE-backed Yemeni forces have forced al Qaeda militants from Mahfad district, al Qaeda's major stronghold in the southern province of Abyan reported by local government and military officials this week.
Threat of violence/terrorism at sea off the coast of Yemen
Yemen's civil war has created an environment mirroring Somalia's lawlessness. The ongoing conflict in Yemen demonstrates how poor security on land has led to violence spilling out into the maritime domain. Houthi rebels continue to control a large amount of Yemen's red sea coastline and continue to attack coalition warships with methods such as missiles and explosives.
The threat of terrorism at sea off the coast of Yemen remains by rebel groups and terrorist organisations such as AQAP. Such is highlighted by attacks against the LNG Tanker Galacia Spirit in October 2016 and the MT Muskie a product tanker in May 2017. Both involved the use of explosive laden skiffs, as an attempt to cause major devastation in the critical international shipping passage of the Bab-el-Mandeb. It must not be ruled out that similar attacks may be attempted in the future. In the past couple months, there have been reports of explosive laden boat attacks targeting coalition vessels in Mokha port. On the 12th and 16th of August, Houthi rebels attempted targeting coalition vessels at Mokha port with explosive-laden boats. With both incidents, Saudi backed Yemeni forces destroyed the boats before it reached the port area. Mokha port continues to be a target for maritime violence as it was suggested to be used as the main port instead of the port of Hudaydah which is currently under Houthi rebel control.
Further to this, Houthi rebels have been reported to have deployed sea mines in the entrance to ports such as Mokha, if the mines are not removed by the coalition there is a danger of them breaking free and drifting into shipping lanes. It remains a persistent threat that merchant vessels may be the subject of a miscalculated attack or as has been suggested recently, possibly threats of a calculated attack.
Somalia Update
This Week
500 US troops on the ground in Somalia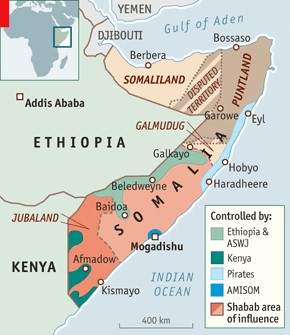 There are now more than 500 US troops on the ground in Somalia. A significant increase from early 2014 when roughly two dozen troops arrived for the first time since 1993 and the Black Hawk Down incident. US Africa Command says there have been 28 airstrikes this year, mostly from drones against al-Shabaab, long considered the greatest terror threat in Africa.
UAE reportedly violates UN arm embargo in Somalia
The UAE is violating internationals sanctions on the sale of arms to war-torn countries by supplying Somalia weapons, a UN report has revealed. The UN report stated it had enough proof that a UAE ship could have been carrying illegal weapons and banned materials to Somalia before it was intercepted and cargo offloaded. The report noted that EU drones recorded the Emirati ship changed its route, got closer to Somali beaches, two small boats approached it and exchanged shipments with it. In addition the report also explained that the UAE's activities in the Somali city of Berbera questions whether building the base does not violate the arms embargo.
Al Shabaab
Al Shabaab has been increasingly active in Somalia in recent months. The militant group has been battling the Somalian government in an effort to govern by a strict interpretation of Islamic law. Since 2013, Al Shabaab pledged allegiance to Al-Qaeda attracting the United States to execute raids and airstrikes against the group.  Al Shabaab continue to carry out attacks including suicide bombings, attacks on hotels and restaurants as well as military bases for African Union troops and Somali National Army. There attacks are further exemplifying the issue of famine, terrorism and corruption making the prospect of stability in Somalia in the near future, bleak.
Piracy Activity
The onset of the inter-monsoon period may see an increase in piracy related activity. Further to this it is important to explore other factors in relation to the increase in piracy. 2017 saw the worst drought Somalia has seen in 40 years. This coupled with the struggling government and militant violence has brought 6.7 million people into crisis. Pirate financiers capitalise on the chaos offering opportunities to local people but also diversifying in other criminal activities such as human smuggling. Pirate groups operated widely in the previous inter-monsoon season and caution should be exercised for the up-coming season. It is needless to say however, that Somalia continues to be a permissive location for piracy operations with an ongoing threat to shipping in the region.